Description of ADT Impassa Replacement door:
The ADT Impassa Replacement door can really come in handy if your door or part of the base has broken. Maybe your ADT Impassa won't close anymore or is missing the door now. Just purchase this and you can replace it so it is like new. If you are looking for a standard DSC Keypad replacement door, you can purchase one here. The standard DSC Keypad door is smaller than tht Impassa Keypad door. Both of these doors have a clip on the side that can break sometimes, and if it breaks the door will not close anymore.
Also, check out this video how you can upgrade your system to a new LTE Color Touchscreen Keypad Panel.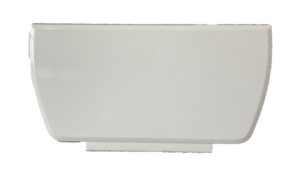 To remove the old door, open it to a 90-degree angle and grasp the door in both hands. Then place your thumbs in the middle of the door, bend the door by pushing downwards and then releasing one side of the door then the other. To install a new door, perform the same stems in reverse order keeping the door at a 90-degree angle. Go here to watch a video showing how to replace it or go here to see written instructions.