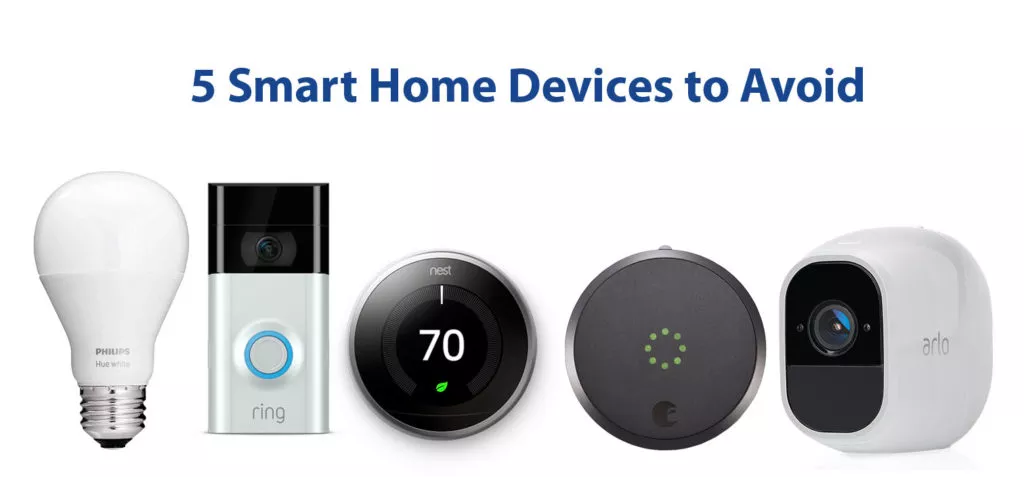 07 Aug

5 Popular Smart Home Devices to Stay Away From

Many popular devices purchased and installed today are great, however most are missing a key aspect for smooth control. The problem is now days, separate companies make DIY common devices, and they use their own app to control their product.  This results in an overload of different apps to control each smart home device. Ideally, you should connect your devices to one ecosystem, through a single app. So let's talk about 5 popular Smart Home devices to stay away from.
5 Popular Smart Home Devices to Stay Away From
Here are a few devices you should avoid. These devices are problematic since they lack complete automation.
Ring Doorbell
Nest Thermostat/EcoBee Smart Thermostat
August Doorlock
Arlo Cameras
Philips Hue White LED Bulbs
The list does not end here as there are hundreds of different brands that fall under the same category of smart home devices. Fortunately when you get an ADT System, everything is automated through the ADT Control App for all their products.
You control every ADT Command item in your home through the same app. Compared with smart home setups where every device has its own app, it's incredibly simple and easy to use. A couple of taps on your app is all it takes to arm your security panel, let a visitor in, turn the lights on, view a video feed, or activate a complex Scene where several devices respond to one command. This simplicity doesn't mean you have less choice on how to control things, though. If voice control is your thing, you'll love the updated feature for Alexa.
1. Ring Doorbell
The Ring Doorbell alerts you when someone is at the door. It also lets you see and talk to the person ringing it from anywhere. However, if you want to have the video clips recorded, you will need to set up a subscription with Ring.  (Fortunatly, that's only $3/mo or $30/year.) While the Ring Doorbell works fine, it's a stand-alone doorbell that isn't compatible with any alarm system. Whereas the new ADT Command Doorbell has a clearer and wider picture while also being a part of one ecosystem through ADT Control. This provides your system with a notification when someone is at your door so you know exactly what's going on at all times.
2. Nest and Ecobee Thermostat
Both the Nest and Ecobee work as Wi-Fi thermostats through an app to give you control of your heating and air conditioning. Both also use a built-in temperature sensor to track movement and ensure your house temperature remains universal. However, both thermostats can only track motion in front of them. Whereas the ADT control thermostat knows your home because it's connected to your system. For example, if the window is open–> Then turn off air conditioner, or If fire –> Then turn off the heater and unlock the door. Many of these features are easily customizable to suit your needs.
Additionally, the ADT Command Thermostat combines streamlined hardware, sophisticated cloud services, and an ecosystem of connected devices for an uncompromising energy management solution with your ADT Command System. DIYers also have the ultimate level of comfort that they can't get anywhere else. The Command Thermostat works for easy installation, smart configuration, and remote support through the ADT Control App instead of a different app entirely on its own.

3. August Doorlock
The August Doorlock is a bluetooth and Wi-Fi doorlock that also works with its own August app. This makes it yet another device to keep track of. It also requires that you install their Wi-Fi Bridge to allow you to unlock it while your not at home.
Unlike the August Doorlock, many of our Smart Doorlocks available here, are compatible with your ADT System through Z-Wave, which is a technology used by ADT to connect your automated devices together through one network. Learn more about Z-Wave here. Connecting your doorlock to your security system allows you better control. For example, you could choose that if someone unlocks the door, your system is armed immediately. Or you could set it up to where someone has access to the lock but not the alarm, which you can't get with the August Smart Lock.

4. Arlo Cameras
Like many outdoor cameras, Arlo Cameras work as battery powered Wi-Fi cameras with limited record-able clips unless upgraded. They're also monitored through an individual company, causing another complication with an additional app/program to view your cameras.
ADT offers a similar Outdoor Camera that is always powered, unlike the Arlo batteries that need to be charged all the time, and it uses the ADT Control platform as mentioned before. Since it's an all-in-one ecosystem, you could connect it to where if there is motion, it turns on your light and starts recording or activate any device compatible with z-wave technology. The only downside is that it also has a limited number of clips. If you want longer recordings, you should talk to us about getting a Network Video Recorder and IP Cameras.

5. Philips Hue White LED Bulbs
The Philips Hue LED Bulbs work as color changing lights. They're a part of a variety of products offered by Philips which all work under their app. While it's a great platform, it's much easier to have all of your home automation under a single network which, ADT offers.
Through Z-Wave technology, it acts as a similar platform as Philips while also connecting to your ADT Command System. View all of our Z-Wave compatible lighting products here.

Be In Control Of Your Home
Instead of needing to keep track of each smart device in your home, get ADT today for complete home automation today. When you have all your smart devices inter-connected in a relationship together under one system, including doorbell, cameras, doorlocks, lighting, thermostats, and more, it provides simple control and accessibility to your entire home. If you're building a home, new home owners want a simple experience with one app to control everything instead of 5+ apps. Check out our smart home packages here for more information.