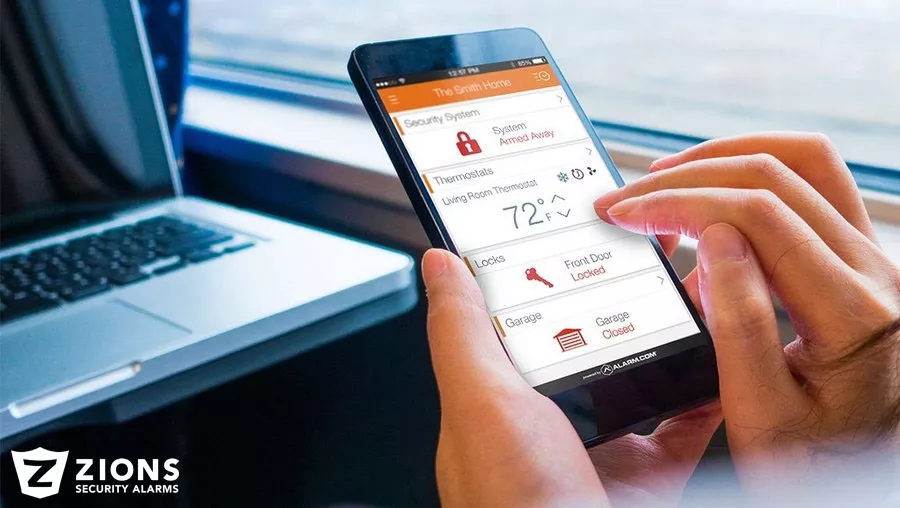 31 Jul

What is Alarm.com?
What is Alarm.com?
Alarm.com is a company which provides complete home automation and control through remote access known as the alarm.com app. With this app, you have access to your cameras, doorbell, lights, thermostat, locks, garage doors, and more. It's actually the same technology used by ADT to provide their customers with home automation. This app, which is compatible with almost any alarm system, becomes the 'brain' of the security system.  This cloud-based technology processes billions of data points from millions of homes and turns them into smart home actions that make life safer and easier.
But, there's more to it. When you power your system through Alarm.com, it also provides a better, smarter home security experience from start to finish. Its professionally serviced technology gives you more benefits every day, armed or disarmed, home or away. Furthermore, it is compatible with Google Home and Siri. Click here for more information.
Here's what you get when you choose to power your security system with Alarm.com.
1: Smarter home security
Better security and safety technology is at the heart of everything we do. A security system powered by Alarm.com comes with best-in-class safeguards like a dedicated cellular connection that can't be physically cut, Crash and Smash protection, and Unexpected Activity alerts that give you early warning of danger. You can also upgrade an Alarm.com-powered security system with smart devices that enhance your family's protection. Additionally, you can add a video doorbell to protect your front porch from suspicious visitors, a smart lock to protect your online shopping, and smoke detectors to protect you from smoke and fire. You can even install water sensors to protect your floor. There's also a full range of Alarm.com-powered security cameras too.
2: A single, smarter app for everything
One app controls every "powered by Alarm.com" item in your home. Compared to smart home setups where every device has its own app, it's incredibly simple and easy to use. A couple of taps on the app is all it takes to arm your security panel, let a visitor in, turn the lights on, view a video feed, or activate a complex Scene where several devices respond to one command. This simplicity doesn't mean you have less choice on how to control things, though. We have different versions of the Alarm.com app for smartphones, tablets, desktop – even Apple Watch. Additionally, if voice control is your thing, you'll love our updated Alarm.com Skill for Alexa or our Google Home Action.
3: New features and updates—automatically
Alarm.com-powered smart home devices stay cutting-edge for longer. That's because our technology enables digitally-delivered upgrades that give you new features and abilities. These upgrades maximize the life of your investment and also ensure that you'll always have the latest smart home security technology.
4: Professional service and support, all the way
Get Alarm.com technology through Zions Security. We ensure that you have a great experience from start to finish. By adding Alarm.com to your system, we can connect and configure all your equipment to work together, using advanced installation apps and other tools, so you don't encounter smart home frustration.
For true emergency protection, professional security monitoring is a key part of the service with all Alarm.com-powered security systems. Here's why professional security monitoring matters.
And the service doesn't end there. With dedicated customer support, you can turn to us if there's ever a problem with your equipment.
Want a home powered by Alarm.com?
Trusted by millions, our approach to smart home security is great for homeowners who want the smartest security technology without the stress of going it alone. So contact us here to get started today!