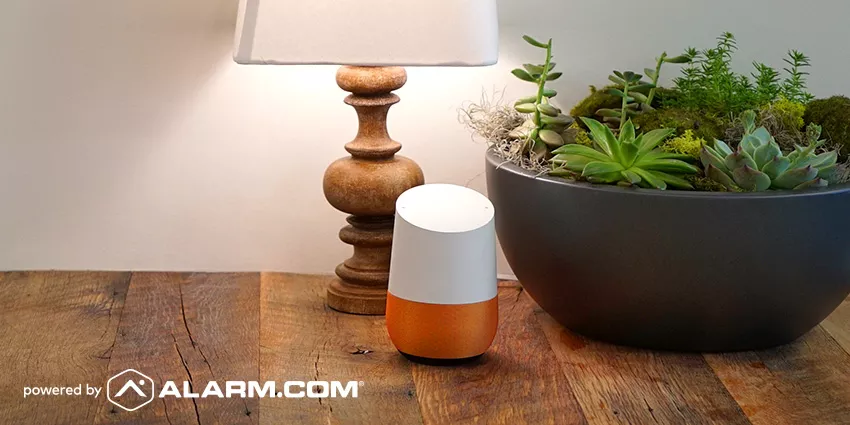 04 Jun

How to integrate Google Home and Siri with your Alarm.com System

Google Home and Siri voice commands for Alarm.com work as a new voice control integration that lets you control your home through Google Home as well as activate Alarm.com Scenes and by talking to Siri using customizable voice 'shortcuts'. These shortcuts integrate into your existing routines and reflect how you naturally talk, making it even easier and more intuitive to interact with your smart home. Google Home also enables you to control your Alarm.com-powered home with intuitive voice commands for your smart security system, lights, thermostat, locks and garage doors.

Okay, Alarm.com user, here's what you can do:

'Siri Shortcuts'
Let Siri know it's time for a Scene
Voice-control your home from inside or outside
Combine Alarm.com commands with other apps
'Okay Google'
Arm your security system
Control access to your home
Check the status of devices
Change the temperature
Control whole groups of devices
Instructions for getting started
How to use Siri Shortcuts:
Here are some things you can do with the Siri shortcuts and how to do them.
Let Siri know it's time for a Scene
Alarm.com Scenes let you control any or all of your smart devices – lights, garage doors, locks, thermostat, or security system – with a single command.
Siri Shortcuts gives you a new way to activate Scenes with your voice alone. Just use your Alarm.com app to set up a custom Siri voice command to trigger any Alarm.com scene—you can be as creative or as natural with your commands as you like—and get talking.
You could start the day with a cheery "Hey Siri… good morning!" command to activate your Alarm.com Wake Up scene, which turns on your lights and disarms your security system.  Later on, a whispered "Hey Siri: baby's nap time," could activate a custom scene for your nursery that turns the lights down and switches on the smart plug for your baby's sound machine.
Voice-control your home from inside or outside
Siri Shortcuts for Alarm.com extends hands-free voice control outside your home to wherever your iPhone is. Next time you pull out of the driveway and wonder if you armed your security system, you can confirm it by triggering your Away scene with a pre-set Siri Shortcut like: "Hey Siri: secure the house!"
When you arrive home, you don't even need to open your Alarm.com app. Just use Apple CarPlay or your iPhone to activate Siri and use your shortcut phrase to trigger your "Home" scene.
Note: As a home security precaution, Alarm.com requires your phone to be unlocked for Siri Shortcuts to activate a Scene.
Combine Alarm.com commands with other apps
You can also use Apple's Shortcuts app to create multitasking shortcuts that combine Alarm.com actions with other app commands. It's a new way to eliminate 'app overload' and weave your smart home's useful abilities closer together with the other technology you use every day.
For example, you could incorporate your "Sleep" Alarm.com scene into a "Good Night" Siri shortcut. As well as turning your lights down, locking the doors and arming the security system, you could have this shortcut set your iPhone's morning alarm and activate its "Do Not Disturb" mode.
For the morning, you could incorporate your "Away" Alarm.com scene into a "Heading Out" Siri shortcut that not only secures your house and turns the thermostat down, but also pulls up directions to your next calendar appointment via car, walking, or even metro.
How to use Google Home: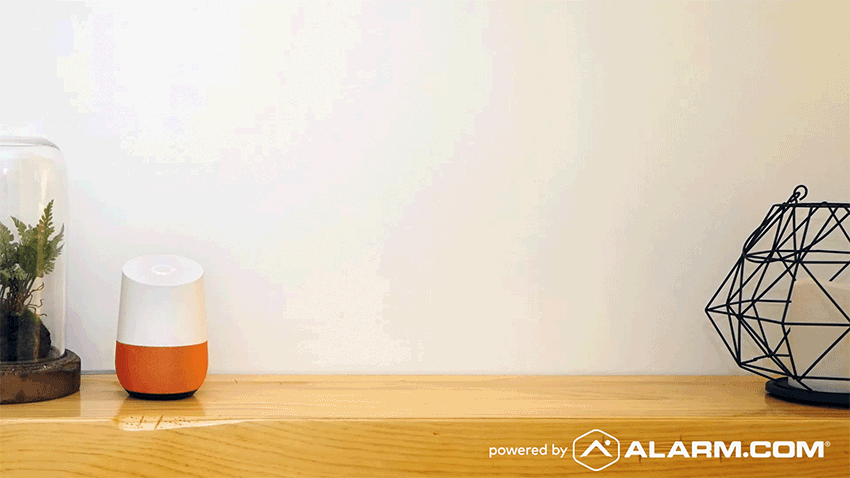 If you have a Google Home, here are some things you can do with it and alarm.com. If you are wanting to sync it with your ADT system click here.
Arm your security system
Kids in bed for the night? Finally sitting down for a movie? There's no need to get up again—or even reach for your phone—to arm your security system for the night.
"Okay Google: ask Alarm.com to arm the security system."

Control access to your home
Our Action makes it easy to secure your home's perimeter, with voice control for smart locks and garage doors.
Okay Google: ask Alarm.com to close the garage.
Okay Google: ask Alarm.com to lock the front door.
Check the status of devices
Sometimes, you just need to know the status of things around your home. We've made it easy to ask:
Okay Google: ask Alarm.com: is the security system armed?
Okay Google: ask Alarm.com: what's the thermostat temperature? 
Change the temperature
Knowing the temperature is good, but when you're too hot, you just want to cool down. So, we included the ability to voice-adjust your thermostat by value or comfort level.
Adjust by value: Okay Google: ask Alarm.com to turn down thermostat by three degrees. 
Adjust by comfort level: Okay Google: ask Alarm.com to turn the temperature down. A comfort level command will adjust the thermostat by two degrees Fahrenheit.
Of course, you can always specify a temperature: Okay Google: ask Alarm.com to set the temperature to 72.
Control whole groups of devices
For your home's smart lights, which you likely have in several locations, you can interact with them by calling out a single device, group, or general device type. For example:
Okay Google: ask Alarm.com to switch on the living room lamp.
Okay Google: ask Alarm.com to switch on the office lights.
And, at bedtime: Okay Google: ask Alarm.com to turn off the lights.
The same goes for your smart locks, with the ability to lock the house down with a single command: Okay Google: ask Alarm.com to lock the doors.
Instructions for getting started
Already got Google Home and Alarm.com and raring to go? Here's how to get started.
First, enable the Alarm.com action by telling your Google Home: "Okay Google, talk to Alarm.com."
Next, open the Google Home app. Enter your Alarm.com account login and password to sync your account. You'll have the option to create your PIN as part of the setup process.
Don't have Alarm.com yet? Find out more about getting Alarm.com by contacting us here.