Description of Universal Magnet:
This is a universal magnet which can be used as a replacement magnet for the universal magnetic contacts or basically any security sensor.  Take note that the replacement magnet only comes in the white color. You can choose to paint the cover of the magnet to match a brown contact, if you would like. Each Magnet consists of a magnet and a plastic cover.
The Universal magnet used with both a recessed door contact as well as a surface mount door contact as you can install it recessed or surface mounted. If the magnet surface mounted, you can have the contact as far away as 2" without tripping an alarm.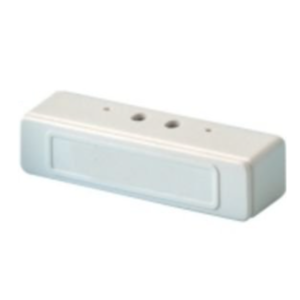 General:
When you recess mount the Universal Magnet, the magnet gap is only 1" so make sure that your magnet is within 1" of the recessed contact when the door or window closes.
If this magnet does not match the one you have, take a look at our other magnets. If you cannot locate your magnet on our website; please contact us and we will find the right one for you.
Please check out our YouTube Channel for more information.