Description of Qolsys Keyfob:
The Qolsys Keyfob is an easy way to arm and disarm your system remotely. Working within 100′ of your home, press the "lock" button once to arm in "Stay" mode and twice for "Away."
Has four buttons: Arm, Disarm, Stay, and Panic. The Arm button arms the system in Away mode, while the Stay button arms the system in Stay mode, which allows for movement within the home while keeping perimeter protection. The Disarm button disarms the system, and the Panic button triggers an immediate alarm to the central monitoring station.
The Keyfob communicates wirelessly with the IQ Panel security system, so it can be used from anywhere within range of the panel. It has a long battery life and is designed to be durable and withstand daily use.
The Qolsys Keyfob is a useful accessory for those who want a convenient way to arm and disarm their security system without having to go to the panel. It is also useful for individuals who may have mobility issues or those who frequently come and go from their homes and want to easily arm and disarm the system.
This is meant to be used with the Qolsys IQ Panel.  It is also compatible with the Qolsys Panel 2.
Even though you can disarm the Qolsys system with your smartphone using the alarm.com app, it is still more convenient to just push one button as you pull up to your home.
Features:
The lock button can arm in stay or away mode
Unlock disarms system
Up to 100 range
Panic function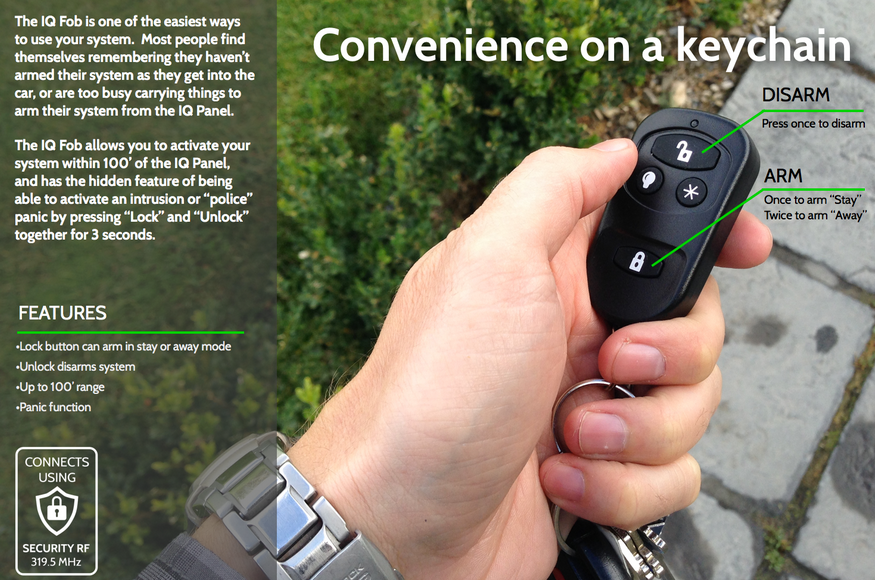 Please check out our
YouTube
Channel for more information