Description:
Join a revolution in the home automation industry with Leviton Z-wave 300W Lamp Plug In and home control technology. Innovative and affordable, with features desired by professional installers and appreciated by homeowners, this lamp plug in helps reduce energy consumption. In addition, it also provides dramatic scene transitions, extended zone lighting controls, industry standard 2-way status updating, and true integration of household electrical devices.
You can also use it to enhance new construction or to add value to older homes, condominiums, and apartments.
Additionally, the Leviton Z-wave 300W Lamp Plug In is a CFL/LED/Incandescent. You can also turn any standard receptacle into the essence of "smart" lighting with the scene. As part of the Z-Wave wireless network, the plug in module is a great addition to any upgrade project, and it can now be achieved for much less than you might have imagined. Additionally, Z-Wave is a smart-home ecosystem, so the Z-Wave technology within the Leviton Z-wave 300W Lamp Plug In system also enables your connected products to be controlled as well as monitored from a central location.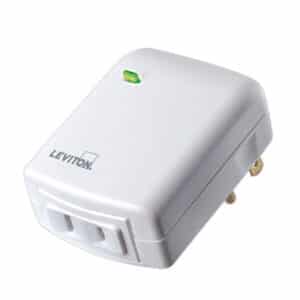 Leviton is also the smart choice, providing the most comprehensive range of solutions to meet the needs of today's residential and commercial as well as industrial buildings.
This device is also compatible with all ADT Pulse as well as Alarm.com.
Additional Features:
Provides ON/OFF/DIM/BRIGHT switching of CFL/LED loads up to 100W
Provides ON/OFF/DIM/BRIGHT switching of incandescent loads up to 300W
Additionally, provides ON/OFF scene as well as zone compatibility
2-way status updates
Also Optimized for use with home automation hubs, gateways, as well as controllers.
Supports Z-Wave Beaming
Dimensions (LxWxH): 2.25 x 2 x 3 inches
Product Weight: 0.336 lbs
Specifications:
Operating Temperature: 0°F to 55°C
Non-Operating: -10ºC to 85ºC
Relative humidity: 20% to 90% (non-condensing)
Five-Year Limited Warranty
Additionally, Leviton Z-wave 300W Lamp Plug In for residential applications of up to 7,500 sq. ft. and not exceeding 128 devices per system.