Description:
The GE Interlogix Simon XT Kit is built for dependency, protection, and with your family's safety in mind. In addition, it's great for homes, apartments, condominiums. This alarm kit also has everything you need to keep a closer eye on your property and it's wireless, so installation is fast and simple.
The Simon® XT is a cost-effective security system that offers up to 40 zones of burglary and fire protection.  Additionally, the Simon XT security system is available in a variety of kits. The standard kit also comes packaged with door/window sensors, a motion detector, and a keychain remote. Other kits include cellular modules for primary or backup communication and/or the Simon Two-Way Talking Touch Screen. Simon XT kits and additional wireless devices provide the complete residential or small business security solution.
Simplicity and control are echoed throughout this wireless alarm system. The control panel features a large backlit LCD display, nonirritating touchpad controls for arming/disarming, and a status speaker that provides voice messages for feedback. For emergency situations, the key pad also displays emergency fast action keys and a microphone for 2-way communication with an alarm monitoring company.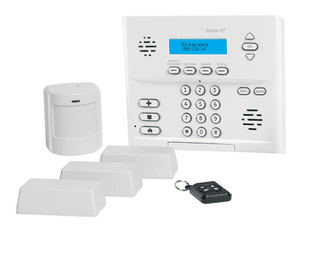 Features:
With the Simon's Latch Key Feature, you can also monitor your family more than ever before: Additionally, the panel can be programmed to notify you if the system has not been disarmed by a scheduled time.
Control Panels: Microphone for Emergency Two-Way Communication w/Monitoring Station Personnel, LCD Display Provides Easy Arming/Disarming of the System, Wireless Design Facilitates Quick, Easy Installation
Sensing/Detection: SAW and Crystal Door/Window Sensors for Complete Protection, Small, Unobtrusive Motion Detectors, 4-Button Keychain Remote Easily Arms/Disarms System w/Recessed Buttons to Prevent False Alarms
Interactive Services: Cellular Reporting Options w/AT&T™ or T-Mobile® GSM Coverage, Advanced Interactive Services through Alarm.com, Extended Capabilities w/Kit Accessories for Added Convenience and Protection – Four-day Forecast for Quick, Convenient Weather Planning and Programmable HVAC and Lighting Promotes Energy Savings w/Added Security
Compatible with all GE Interlogix Products.
GE Interlogix Simon XT Kit Standard Features
40 wireless zones – two hardwires (normally-closed loop only)
Built-in PSTN 2-way voice capability (over GSM with optional module)
Supports both crystal and SAW LearnMode sensors
Supports repeaters
Additionally Supports 2-way RF products (version-specific)
Indoor As well as outdoor motion sensors
Chime feature for monitoring door, window, or motion activity
Includes 1 master access code as well as 8 programmable user access codes of 3 to 6 digits
SIA or CID central station reporting formats as well as Voice Event Notification reporting as a result of PSTN (native) and/or optional GSM IP modules
Programmable No Activity and No Usage report features
Meets SIA False Alarm Standards
100-event buffer with time-and-date stamp
Panel voice and beeps that disables
Program panel with built-in touchpad or Enterprise Downloader software v3.4 or later
Firmware flash upgrades remotely
Expansion options
– Internet-based interactivity (with third-party providers)
– Support for on-premises remote control with optional talking touchpad accessory
For further features see the GE Interlogix Simon XTI Kit