GE Concord 4 Control Panel Description:
GE Concord 4 Control Panel is a full-featured security system for intrusion and fire detection that complies with false alarm standards. Easy to install and simple to use, Concord's modular design and advanced software provide outstanding system flexibility t o meet the needs of virtually any residential or commercial security application. High standards The panel comes standard with eight hardwired zone inputs, including a 2-wire smoke detector loop that can handle up to 20 detectors. In addition A built-in RF receiver with 96-zone capacity also provides instant compatibility with the complete line of Learn Mode sensors. While two programmable outputs can also be set up to activate external devices during an alarm or other system event. Furthermore, easy expansion doubling Expands Concord's capabilities by adding  Input Modules for eight additional zones per module, or Relay Output Modules to add four more output points.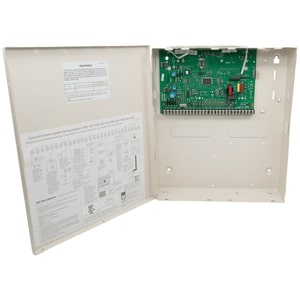 Additional Information
Expand the system even further with a Phone Interface/Voice Module for on- and off-site system control using touch-tone phones. While the module includes a speaker output that provides on-site voice status and alarm messages. Adding a energy saver module lets users control heating and air conditioning. Additionally, the Power Transformer adds quality light control. Also the Wireless Gateway Module allows users to control and monitor the status of the system from the Alarm.com web site. Increase power capability for system peripheral with a Power Supply Module with battery backup. Lastly, the module provides 2 amps at 12 V DC. Click here to download the current Enterprise Downloaded software and documentation.
Features:
(6) partitions with partition jumping and multiple partition arming
(96) zone wireless receiver on-board
(8) built-in hardwire zones
(2) built-in programming outpus
Also compatible with all GE Security crystal as well as SAW wireless Learn Mode sensors
2- and 4-wire smoke detector compatibility
Panel auxiliary power provides (1) amp
Built-in 12-watt siren driver
Support for macro keys on concord keypads
Entry/exit delays can now be set with (1) second instead of (8) second granularity
Silent keypad panic options
Multiple partition-arming features in the security menu
Support for multiple automation devices (maximum of 2)
Quick programming menu, using fixed English or alphanumeric keypads