ADT Exterior Siren
This is an ADT exterior siren that is hardwired and made by GE .  It is plenty loud at 85dB, but there are louder exterior sirens. The advantage of this little exterior siren is the price, size, and amount of power it uses. It can be added to most systems without needing additional power since it only uses 190mA.
You can wire it directly to the control panel and is compatible with almost everyone on the market.
The Lynx only has 120mA, so it does not put out enough power for this siren.
The Simon XT puts out 250mA and this siren works great with that system.
The Vista, Concord, or Power Series panels all have enough power on their control panel from the siren output to power these in addition to the interior siren. But if you want to have more, you better make sure you have enough power. (Vista Panels have 2Amps for siren output, DSC has 700mA, and Concords have 1Amp)
Features:
The unit has weatherproof housing
The operating temperature is 10-120°F
Wall-mounting Siren
Color: White
Input Voltage: 5 to 14 VDC 190 MA.
Dimensions: 4.85 x 3.92 x 3.56 in.
Weatherproof housing.
Sound Output (@6 VDC) 85 dB.
This hardwired siren is compatible with the Vista 20P Panel, the DSC Neo Panels, the IQ Pro Panel, and the Power G Hardwire Module.
If this siren isn't what you need, check out our other sirens.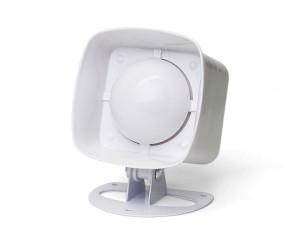 Check out our youtube channel for more information.