Back UP Power Tower 1500VA 1050W  comes with the line interactive topology and a pre-installed SNMP card. In addition, it provides battery backup for equipment, power protection with true sine wave output, and surge protection for corporate servers, department servers, storage appliances, network devices, and telecom installations requiring Active PFC power source compatibility.
Furthermore, Back UP Power Tower 1500VA 1050W uses AVR (Automatic Voltage Regulation) to correct minor power fluctuations without switching to the battery power, thereby extending the battery life. The AVR is essential where power fluctuations occur frequently. Finally, an included card provides remote UPS management and configuration using a standard web browser or network management system.
Get more info for Back UP Power Tower 550VA 330W.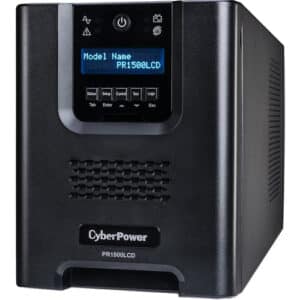 Features:
Output Power, Connectivity and Management
1500VA / 1050W sine wave UPS
120VAC input/output
Mini-tower
SNMP/HTTP remote management card
8 Outlets / USB, serial, and EPO ports
Compliant with Cisco EnergyWise
ENERGY STAR compliant
Battery Backup
Supplies power long enough for the equipment to properly shut down when utility power fails
Helps prevent loss of data and minimizes the component stress caused by a hard shutdown
Surge Protection
Diverts excess voltage away from sensitive electronic equipment during an AC power surge or power spike to prevent damage
Line Interactive Topology
Exists when a line interactive UPS has an autotransformer that regulates low voltages (e.g., brownouts) and over voltages (e.g., spikes) without having to switch to the battery
AVR (Automatic Voltage Regulation)
Provides clean, consistent AC power by automatically increasing (boosting) low voltage without using battery power when incoming utility power experiences minor fluctuations
GreenPower UPS Bypass Design
Allows utility power to bypass the UPS transformer, when AC power is stable, which reduces energy consumption, noise, and heat build-up
Extendable LCD Control Panel
Can be removed and relocated for easy viewing using the attached 4.5′ cable
Provides easy access to view status or change settings on the UPS as a result of when it's installed in a hard to reach area such as the bottom of a rack, under a desk, in a crowed IT closet, or on the floor
PowerPanel Business Edition Software
Provides IT professionals with tools for monitoring as well as managing the UPS and backup power
Offers remote management functionality