The ADT Pulse Jasco Plug-In Dimming Lamp Module 45702 allows you the option to adjust mood lighting for all occasions within your home. Z-Wave is a radio frequency, mesh network technology specifically designed for use in residential lighting control.
Every Z-Wave enabled device is capable of relaying commands and utilizes two-way communications to ensure reliable operation throughout the entire home. The open-air, line-of-sight transmission distance is up to 100-Feet between devices. Actual performance in a home will depend on the number of walls between the remote controller and the destination device, the type of construction and the number of devices installed in the system.
The device's ability to relay commands and acknowledge receipt of commands makes Z-Wave an ideal solution for automating and controlling lighting systems.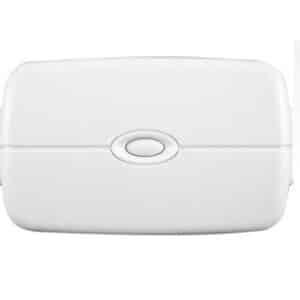 ADT Pulse Jasco Plug-In Dimming Lamp Module 45702 Features:
Adds also remote control and dimming capability to standard incandescent floor and table lights
Also, Space-saving horizontal design plugs into a standard wall receptacle without blocking the second outlet.
One Z-wave controlled and one always-on pass-through outlet
You can also, easily create and manage custom home lighting control
Start with a room or two and add more over time
Specifications:
Power 120VAC, 60Hz
Signal (Frequency) 908.42 MHz
Maximum load for the Z-Wave controlled outlet: 300 W Incandescent / 100W dimmable CFL/LED.
Also, the maximum load for pass-through outlet: 1500W
Load for both outlets at maximum is 15 Amps, 1800W Resistive
Z-Wave controlled outlet is fused @ 5A. This fuse is not user serviceable.
Range: Up to 100 feet line of sight between the Wireless Controller and the closest Z-Wave receiver module.
Operating Temperature Range: 32-104° F (0-40° C)
Supports dimmable CFL/LED
For indoor use only.