The ADT Pulse Easy Install Light Switch is so easy to install, you can literally add it to your home in 5 minutes or less. It just installs on top of your existing decora light switch and then you can control it from ADT Pulse. There's no electrical wiring to mess with, so you're done in minutes! It's almost too easy.
The only downside is that is sticks out around half an inch and it uses batteries, so it doesn't act as a z-wave repeater like the other ADT Pulse Light Switch.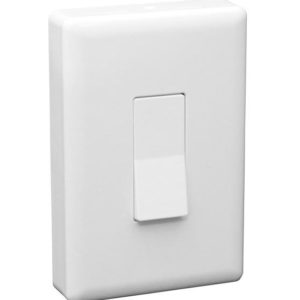 How to add the ADT Pulse Easy Install Light Switch to your ADT Pulse System
Log into portal.adtpulse.com
Click on System
Click on Manage Devices
Next, Click on bottom box to add lights, thermostats, and doorlocks
Then, Click Add
Then press the inclusion button on the ADT Pulse Easy Install Light Switch
Name it, then you can use it and even put it in a schedule if you would like
Easily automate overhead lights with the Ecolink Z-Wave Plus motorized light switch. It's simple to install by removing the existing light switch cover and replace it with this device.
Compatible with any single gang Decora style switch
Easily automate anything controlled by a light switch
No need to access high voltage wiring
Preserves manual control of the switch
2 year battery life of 2 AA alkaline batteries
FCC, IC and Z-Wave plus certified
Product Specifications of the Easy Install Light Switch
For indoor use only
Operating frequency: 908.42 MHz
Operating temperature: 0° – 49°C, 32° – 120°F (ambient temperature)
Also has operating humidity 5-95% non-condensing
Battery Life: 1 year