Description of 600LB Magnetic Lock:
This professional grade 600LB Magnetic Lock is UL/ULC listed and finished in anodized aluminum. It is the perfect solution for many access control applications. A terminal block is provided for easy wiring and a template is also provided for accurate installation.
The 600LB Magnetic Lock UL/ULC is an amazing innovation that is made to last long due to its superior framework and material. You don't need an expert to install it, as you can install it yourself without hassle. It is a great addition to your home or business's security needs; very efficient and provides nothing but good results.
Now, you don't need to worry too much, let this product do its thing while you relax and do your things!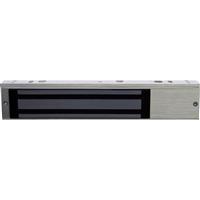 Features:
600 lbs. (272 kg) Holding Force
Brushed Aluminum Finish
12/24 VDC Operation
Wire Splice Chamber
Bracket Mounting
Optional Z Bracket for In-swing Doors Available
Current Draw: 500mA @ 12VDC, 250mA @ 24VDC
24 Month Warranty
Specifications:
Magnet Length: 9-7/8″ (221 mm)
Magnet Width: 1″ (22.4 mm)
As well as Magnet Height: 1-11/16″ (38 mm)
Armature Length: 7-1/4" (162 mm)
Armature Width: 5/8" (14 mm)
Additionally, Armature Height: 1-7/16" (32 mm)
Weight: 4.5 lbs. (2 kg) nominal