Magnetic Lock glass door Bracket
The Magnetic Lock glass door Bracket is used for mounting on glass doors to allow you to mount a 1200LB magnetic locks on glass doors. You will put this around the glass and then attach the Maglock to the door.
In this, you will get a spacer plate that allows you to just for 9mm glass instead of the normal 13mm glass, it will also come with a tray where you can attach the magnetic lock to the doorframe, this will work on wooden and steel doorframes but the steel is more common for these. This bracket has a stainless steel finish as well as all the other parts that come with this making it so it will be the same color as your Magnetic lock. This will work with a lot of the 1200LB magnetic locks such as our: 1200LB Electromagnetic Lock or 1200LB Maglock.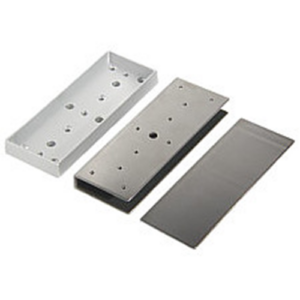 Product includes
U Bracket to attach to the door
A spacer for 9mm glass
Bracket for mounting the Magnetic lock to the doorframe
We also have glass break detectors here that will tell you if your glass door has been broken and will work great with a magnetic lock.
For more information on products or security visit our Youtube channel at this link here