Description of 18/2 power wire for security alarm systems:
High Quality Alarm Cable 18/2 power wire for security alarm systems power wire to connect the transformers to the control panels. It is also used to power a hardwired siren. It is also the extension cable for the ADT Pulse Outdoor Camera OC835.
It is very common to use the wire connectors when using this wire since it makes it really easy to connect to other wires.
Alarm sensor connections or other low voltage applications can use this 18/2 power wire also, but usually 22/4 or 22/2 is used for door and window sensors, hardwired motion detectors, keypads as well as other hardwired accessories to your alarm panels.  Ideal for Indoor Remote Control of security, Intercom, as well as Sound Systems. It has a flexible PVC outer jacket with ripcord. Useful for powering circuits or burglar alarms. If you would like different wire, please see our wire and cables selection here.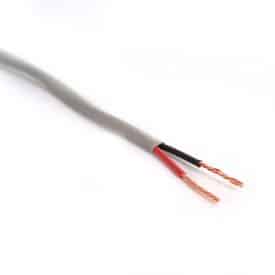 Select different options for the wire above with the length tab.