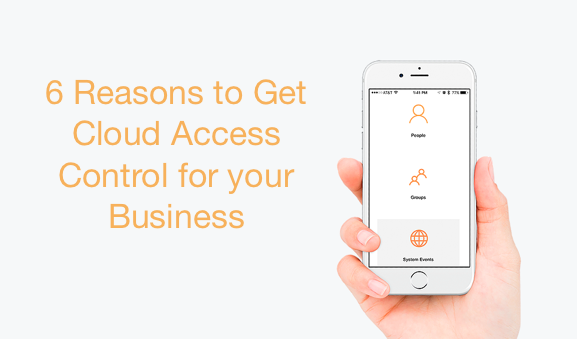 07 Dec

6 Reasons to Get Cloud Access Control

Whether you're an owner of a small or medium-sized business, things can get busy. And I mean really busy.

You're probably wearing multiple hats and constantly biting off more than you can chew to get your business up and running or hitting quarterly goals.

The last thing you should be worrying about is how to keep your employees, assets (computers, monitors, phones etc.), and building safe from break-ins.

Running your access control system from a dedicated physical computer in your office place is ancient, out-dated, and super inconvenient.


via GIPHY
If you're currently running your access control to your office like this, you're only making things harder for yourself!

So go ahead, kick your feet up, and finish reading this blog. We're going to run through 6 reasons why you need to get cloud access control.
The Benefits of Cloud Access Control
You may be wondering, what is cloud access control? Cloud access control allows you to remotely monitor and secure your office building from your smartphone with wifi access.
That's right. No need to physically be at the office or on a specific, "dedicated" access computer.
Now that you know what cloud access control is, let's run through the top reason you need it for your business.
1.Convenience
Cloud access control is super convenient. Is your business in a heavy recruiting phase or does your work staff constantly contract out work to freelancers?

Being able to easily manage who is coming in and out of your office building and being notified in real time of what is going on is key to keeping your assets protected.
2. Flexibility
The ability to remotely manage your business security means that you can be in complete control anywhere you have wifi access.
Have a new hire that needs entry access to the building? One of your managers need to get into your office while you're not there?
Cloud access control makes it easier for you to control your maglocks or electric strikes so people can gain access easily.
3. Real-Time Notifications
Knowing what is going on at your business location is easier than ever with instant alerts and real-time notifications.
Did a door get left open? Waiting for someone to get into the office? Now you can know… instantly.
4. Cloud Storage & Backups
With cloud access control, you can store and back up information on the cloud and be able to review it as needed, making reviewing past events super convenient.
5. Facilitate Software Updates
With cloud access control, staying up-to-date with the latest software updates is super easy. No more having to deal with outdated systems and spending time updating systems while inside your office building.
6. Micromanage from Your Palm
Need to open the doors for someone, or did someone forget to lock up? Need to add or remove a user while away. You can delete or add permissions to their prox fobs from your smartphone or computer. 
As an Authorized ADT Dealer, Zions Security Alarms has the latest security devices to help you keep your business secured and thriving.
Click here to get your business the protection it needs.