19 Jun

ADT Pulse Cameras Can Now Record on Motion and Automate Lights or Locks
ADT announced one of the biggest ADT Pulse improvements today. Up until now, one of the few disadvantages of ADT Pulse Cameras was that they couldn't record on motion. But now, that is a thing of the past.
Starting today, users of ADT Pulse that have two of three ADT Pulse Cameras can set them to record on motion. In fact, they can really do much more. The two on the right of the picture above are the ones that can record on motion: the Icamera1000 Indoor Infrared Camera and the OC810 Outdoor Camera.
How to do it
If you have ADT Pulse, you log in to the portal and then click on Automations or Alerts.  Under the Automations tab, you can choose if there is motion or no motion on the camera, then do something. The list of somethings can be extensive. Mine are as follows: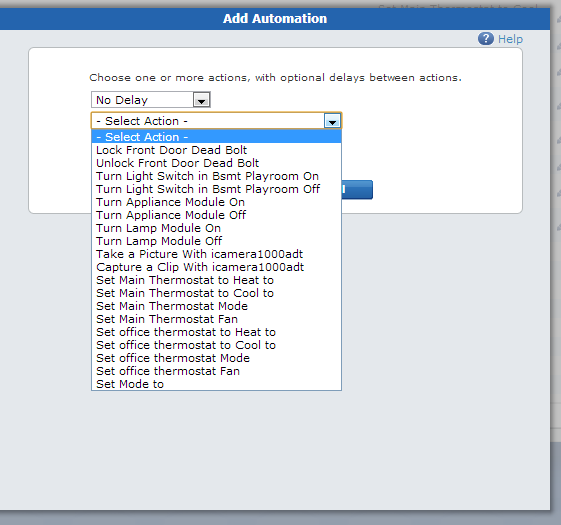 The alerts menu is slightly different because then you can set the system to send you a message when there is or isn't motion. How cool is that? When there is motion, send me a video clip of it.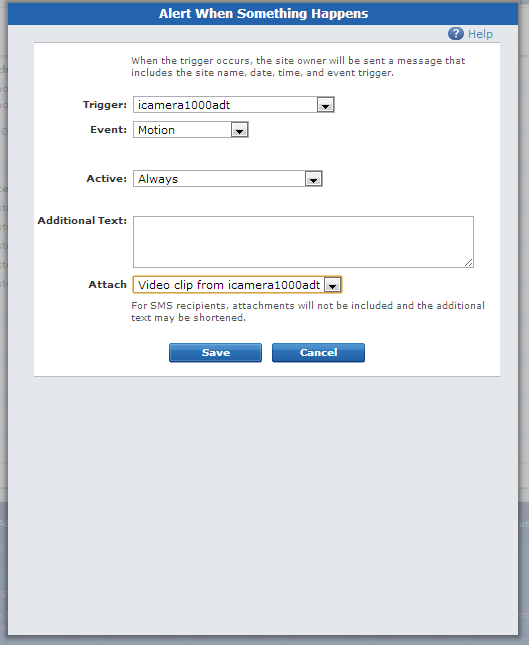 Press release
Here is a copy of the press release that came out this morning:
BOCA RATON, Fla., Jun 18, 2013 (BUSINESS WIRE) — Today, ADT is introducing new video motion sensor technology to provide ADT Pulse customers with an extra
layer of security protection and the ultimate convenience in home automation. The new feature allows users to schedule actions when motion is detected by their indoor or outdoor wireless cameras, and receive instant email or text message alerts with video clips of these activities. ADT Pulse customers can save these video clips for up to 30 days on their ADT Pulse web portal.
"ADT's product engineers performed extensive quality testing at our Innovation Lab to perfect the new motion detection feature," said Tony Wells, chief marketing officer at ADT. "This superior technology ensures our customers have a reliable experience every time they use our system, and gives them greater power to control their homes remotely from any location, helping to more easily protect and connect to what matters most."
What this means for ADT customers
ADT Pulse customers can use the new video motion feature to monitor activities
around the house, including:
— Family Members: Pulse customers who are working parents with hectic schedules can keep an eye on their kids, ensuring they come home from school or afternoon activities on time. Homeowners who look after family members with special needs can be notified when caregivers arrive, helping to provide greater peace of mind.
— Package Deliveries: Customers can set their cameras to record when a delivery
person approaches, alerting them that a long-awaited package has been delivered
and placed safely at the door.
— Dog Walking: Customers who can't be home to walk Fido multiple times a day can program their cameras to record when the dog walker arrives, and then unlock the door and relock it when the walker leaves. They can even keep tabs on the portions Fido is fed.
— Home Service Calls: Pulse customers can receive text message alerts when the
landscaper arrives to beautify their yard, or when the housekeeper comes to
clean the house, and can even be sent email messages when they leave.
ADT Pulse customers with compatible cameras receive the new motion detection
capabilities free of charge and can activate the camera feature by visiting their Pulse web portal. The motion detection feature adds to the wide range of ADT Pulse life safety and lifestyle benefits, including the ability for consumers to remotely arm and disarm their systems; access real time video of their premises; manage their energy consumption by controlling thermostats, small appliances and lights from any web-enabled device; and receive notifications and alerts via phone, email or text.