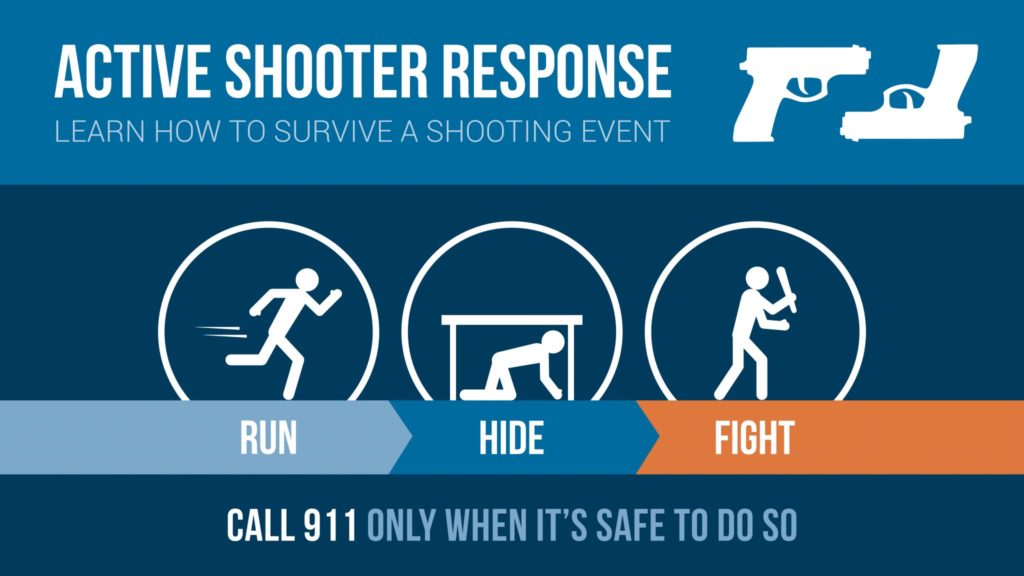 26 Feb

Top 5 Tips for Active Shooter Situations

Heaven forbid you find yourself in an active shooter situation within your own home, school, shopping area, park or other public area. 

But, what would you do if you found yourself in a scary situation like this?

Let's take a look at the top tips from the Department of Homeland Security, plus an additional tip from us, so you can stay safe and protect yourself and your loved ones should you should ever find yourself in a situation like this.
#1 – Notify others
If you have a panic alarm or procedure in place, make sure others in harms way know that there is a threat. Then notify authorities. (Only do so when it is safe).
#2 – Evacuate If Possible
Have an escape route planned and be sure to communicate this to your household just to be prepared.
In an active shooter situation, if you are in a position to evacuate the area in a safe manner, do so immediately.
Don't worry about any physical belongings. Get to a safe place and call the police immediately.
#3 – Hide Yourself
If you find yourself in a spot where you are unable to evacuate, hide away in an area out of the shooter's vision and be as quiet as possible. Don't forget to silence your cell phone if you have it on you.
Also, if you can, block any entry points to the place you are hiding, and lock the doors.
This will hopefully dissuade the shooter and cause them to leave.
#4 – Take Action
The Department of Homeland security recommends this tip only as a last resort and if your life is in unavoidable danger, as this can be an extremely unsafe situation.
After assessing your situation, if you need to take action, look to incapacitate the shooter.
It is recommended to act with "physical aggression and throw items at the active shooter." Do whatever it is you have to disable the shooter and put him or her out of action. Get into a mindset that you should do whatever it takes to become safe should you find yourself in this situation.
#5 – Be Prepared
No one expects to find themselves in terrible situations, but being prepared and mindful is key.
Having a game plan established is definitely a good idea.
Another thing you may want to consider is having an alarm system (like ADT Pulse) with holdup or panic buttons like this one.
Alarm systems are a great way to help keep your home, business, or school armed and protected. ADT Pulse, in particular, is an amazing system that allows you to monitor while you're out and away from your smartphone device.
Holdup buttons are easy to access alarms that you can use to silently alert authorities. They can be mounted in discreet locations or worn on your body, making them convenient to access. When they are pushed they can set off a loud siren or a silent alarm depending on what is best for the situation. 
Recently an officer in a high school contacted us and asked us to put together an option for active shooter situations. Below is a kit that can be ordered and customized for any home, business, or school.
The kit consists of three devices but can have more. First the table top panel, then the wireless panic buttons, and lastly the wireless sirens.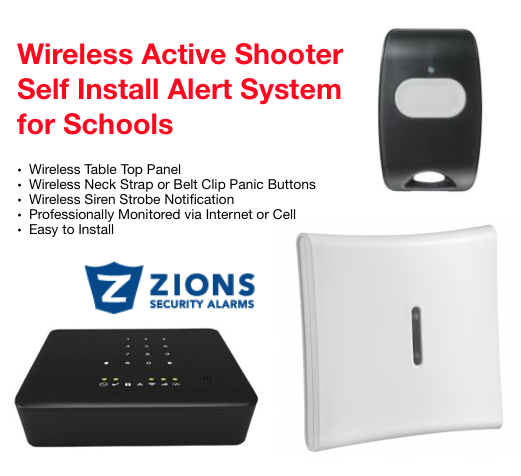 Have any other tips that we didn't mention? Feel free to comment them below!