Wireless Video Intercom Kit Description:
Wireless Video Intercom Kit combines convenience, connectivity, and communication all into one battery-powered, easy to install bundle while not requiring an ISP connection. Furthermore, using the compatible vision app provides a remote connection to a true wireless video intercom and door release system (with the Wireless Door Interface). Additionally, it's easy to deploy, flexible, expandable to multiple smartphones/tablets, multiple doors, and enhanced with extended range (from Wi-Fi). It works as an ideal video intercom system for office environments, retail stores, and other commercial, or even residential settings. It is easy to deploy and user-friendly, providing users more at the door.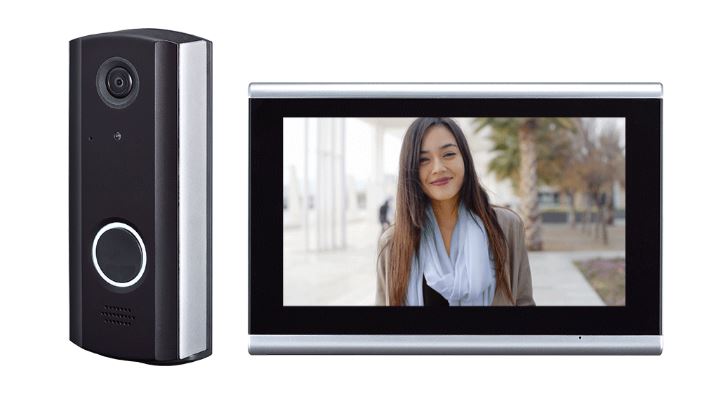 Key Features:
Smart Devices Compatible
Connect with Vision app, available via the app store
Videos recorded by the Door Station can be stored via cloud services (such as Dropbox or Google Drive), or with a microSD card, without the need for contracts or monthly fees.
Easily Expandable
The system is fully expandable to accommodate multiple smartphones, tablets, and door stations
Door unlocking functionality available for all Door Stations with the addition of the Wireless Door Interface
Product Specifications:
 
MODEL
 (Door Station)
MODEL
(Mobile Station)
Video
Video format: H.264 720p HD/VGA. Recording file format: MP4. View angle: H135°, V75°
Audio Direction
Two ways (Full-duplex)
Audio Direction
Two ways (Full-duplex)
Wi-Fi
Network connectivity: Wi-Fi 802.11 b/g/n. Frequency: 2.4GHz
Wi-Fi
Network connectivity: Wi-Fi 802.11 b/g/n. Frequency: 2.4GHz
Power
AC Adapter 5 V/1.5 A
Sub 1 G
Frequency: 916MHz
Battery Life
Approx. 8hrs in standby
Power
10 to 24 V AC/DC or rechargeable battery (included)
Charging Time
10hrs by included AC/DC adapter
Battery Life
2 months/1 year (Battery saving OFF/ON)
LCD Display
7-inch touch LCD 1024×600
Battery Charging Time
10hrs with 5 V DC, 1A supply
Operating Temperature
0°C to 40°C (32°F to 104°F)
Night Vision
IR lighting LED
Operating Humidity
<90% Rh non-condensing
Operating Temperature
-20°C to 50°C (-4°F to 122°F)
Operating Humidity
<90% Rh non-condensing
IP Rate
IPX5
Memory card
microSD card, UHS-I 4 to 8 GB (included)