Description of Ubiquiti Controller Cloud Key :
The Ubiquiti Controller Cloud Key uses hybrid Cloud technology. The Cloud Key securely runs a local instance of the controller software as well as features cloud single sign-on for remote access.
We also took one of our biggest ideas and engineered it to fit into a tiny form factor. The Cloud Key is a miniaturized marvel of technology. In addition, it's an integrated computer and software controller minus the bulk. The key also features a quad-core processor with 1 GB RAM, operating the latest version of the controller with additional built-in hybrid cloud technology.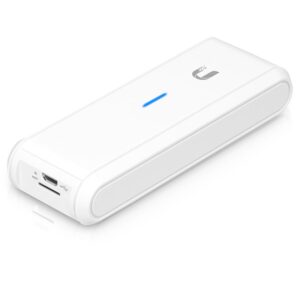 Additional Features:
Secure Hybrid Cloud Technology
Fully Integrated, Stand-Alone Controller Hardware
Remote, Private Cloud Access to the Controller
Manage Your Networks from a Single Control Plane
Intuitive and Robust Configuration, Control as well as monitoring
Remote Firmware Upgrade
Users as well as Guests
Guest Portal/Hotspot Support
The PoE Switch, Access Points, and Ubiquiti UniFi Security Gateway are other components that are usually used along with the Ubiquiti Controller Cloud Key