Description:
This cable is built to the Cat5E standard, which ensures reliable and high-speed data transmission. It supports data transfer rates of up to 1000 Mbps (1 Gbps), making it suitable for various networking tasks, including internet connectivity, local area networks (LANs), and data transfer between devices.
The Cat5E Patch Cable features durable construction with quality connectors and well-insulated copper conductors. The connectors are designed to securely fit into Ethernet ports, providing a stable and consistent connection without the risk of disconnection.
With its wide length range, you can select the ideal cable length to suit your networking setup. Whether you need a shorter 3ft cable for connecting devices in close proximity or a longer 50ft cable for spanning greater distances, this cable provides the flexibility to meet your requirements.
Cat5E Patch Cable Quality network cable used for hubs, switches, routers, DSL/ cable modems, patch panels and other high-performance networking applications. The molded, snagless boot prevents unwanted cable snags during installation with extra strain-relief. View our other cables and wires here.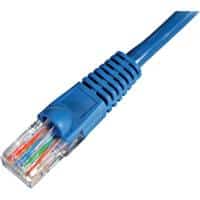 Also available:
3FT Patch Cable, 5FT Patch Cable, 10FT Patch Cable, 25FT Patch Cable, 50FT Cat5E Patch Cable listed above.
Features:
Molded, Snagless boots
100% copper
24AWG
8P/8C 50 micron gold plated connectors
PVC cable jacket
568B wiring color code
350 MHz
Warranty: Limited Lifetime
Color: Blue
NVR
Can handle up to 10/100 Mbps at a 100MHz bandwidth, also compatible with the majority of wired security equipment.
Please check out our
YouTube
Channel for more information.