The Power Supply Box 12V 18Amp 18 Port for CCTV is the power supply you need for CCTV cameras, heaters, and other video accessories. It has 18 fused protected outputs and its power core is included. But it does not have protection against the weather, so keep in mind that this supply box should remain indoors.
It is a perfect power supply that serves its purpose, you don't need to worry about every device at your home working together. A superior and efficient power supply made of high-quality materials that will surely last for a longer period of time.
If this isn't what you're looking for, the Power Supply Box 12V 10Amp 18 Port is also available.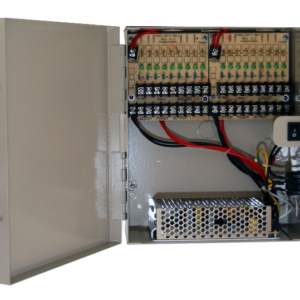 Additional Features:
DC 12V, Fuse
18 Port ; 18 Amp
Indoor Only
Kit also available for purchase here.
Additional Specifications:
It has Fused Outputs, 12V DC at 18 Amp – UL list CCTV Power Supply Box

The Power Supply Box 12V 18Amp 18 Port provides 12VDC 18 Amp output distributed via 18 Fused protected outputs Agency Listings: UL / CUL

12VDC Output. 18 amp @ 12VDC supply current. 18 Fused protected outputs. Output Fused are rated @ 3.0 amp.

110~220VAC 60Hz input. AC Power Switch, Power LED indicator. Power core Included.
Please check out our YouTube Channel for more information.