DSC Powerseries Full Message Keypad with RF Receiver
Desription:
The DSC Powerseries Full Message Keypad with RF Receiver is a 64 zone keypad with full message LCD display as well as built-in wireless receiver. Unlike the conventional and unattractive keypads, this modern, slim-line landscape keypad adds to the modern look of your home. Furthermore, the panel features large, backlit keypad buttons for unabridged functionality at any time of day. You can also adjust the keypad light and buzzer. Additionally, the whole system comes in an easy mountable surface or single-gang box mount using a hinge mount. Purchase the replacement door here.
This is compatible with these panels: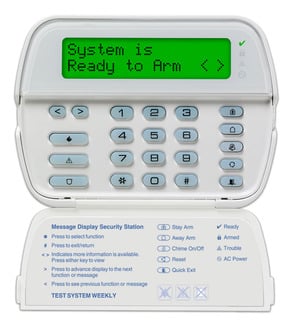 Additional Information:
This key pad is a high-quality, slim-profile keypad for all PowerSeries systems and offers a clean and unobtrusive look. It goes with the modern decor preferred by homeowners and the easy programming and installation appeals to the installers. The keypad also features a PGM or programmable input/output terminal, which can be easily programmed to operate as a zone input, programmable output or as a low temperature sensor.
In addition, the keypads feature five programmable keys which can be allotted with a specific system function that can also later be activated by easy one push button action. Furthermore, stay armed, away arming, door chime, smoke detector reset, as well as quick exit, are the default tasks assigned to the five function keys. While with the quick exit function there's no need to disarm as well as rearm the system every time an occupant leaves the house or lets the dog out.
Additional Features:
Global partition status
Full 32-character programmable labels
Modern, slim-line landscape keypad
Enlarged keypad buttons
5 programmable function keys
Intuitive clock programming
3 one touch emergency keys
Multiple door chime per zone
Adjustable backlight and keypad buzzer
Wire channel
Dual wall-mount as well as front cover tamper
Easy-to-install mounting hinge
Surface or single-gang box mount
AC status ICON
Also available with English function keys
v1.3 also includes easy wireless device enrollment process with v4.6 panel and pre-programmed label libraries (English, French and Spanish)