Description:
The ceiling mount Low Profile Ceiling Motion Detector provides panoramic coverage (360° x 50 ft). Its low profile design provides a recessed-mount look, even when surface mounted. The wiring and programming options can be accessed without having to remove the detector from the ceiling. With a 50 ft diameter coverage pattern, it is an ideal ceiling mounting choice for applications that require spot or 360° detection.
Compatible with hardwired panels.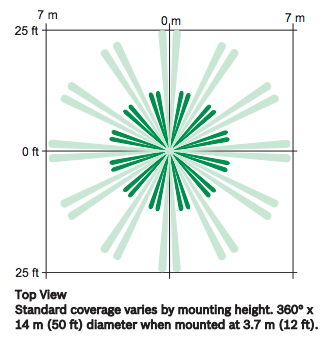 Functions:
Alarm Display
Red LED (on/off selectable) lights on detection for 2.0 ±0.5 sec.
Alarm Memory
Memory Input allows LED to latch if detector alarms during alarm period. First-to-alarm signal allows indication of first detector to alarm when multiple units are used on the same loop.
Specifications:
Detection Zones: A total of 50 detection zones
Speed: 0.2 m/s ~ 5.0 m/s (0.5 ft/s ~ 15 ft/s)
Pulse Count Selectability: 1, 2, 3, or 4 pulses
Dimensions: 5 in. x 1.5 in.(12.7 cm x 3.8 cm)
Weight: 176 g (6.2 oz)
Humidity: 0 to 95% humidity non-condensing
Operating Temperature: +14°F to +120°F(-10°C to +49°C ) For UL Listed
Applications, 0°C to +49°C (+32°F to +120°F)
Mounting:
Height Range: 8 ft to 12 ft(2.4 m to 3.7 m)recommended
Power Requirements:
Current Draw: 17 mA maximum at 12 VDC
Voltage: 9 VDC to 30 VDC, 7.5 VAC to 24 VAC
Warm-Up Period: 35 ±3 seconds