Description:
The Leviton Z-wave In-wall Dimmer Switch 1000W1 supports a universe of lighting applications including local and remote dimming control for incandescent, dimmable LED and CFL, halogen, and magnetic low voltage. The highly advanced Leviton Z-wave In-wall Dimmer Switch 1000W provides two-way feedback, is scene capable, includes 49 different fade rates, and features user pre-sets for powering on and minimum brightness.
Additionally this switch has a magnetic Low Voltage, 1000W Incandescent, and 450W LED/CFL as well as Mark 10 Scene Capable Dimmer for single pole. It also has 3-way or more applications, with LED locator and brightness display. In addition, white face also assembled on device. It also has ivory as well as light almond, and the faces are included.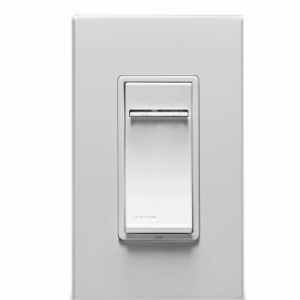 This device is compatible with all ADT Pulse as well as Alarm.com.
Additional Features:
Supports the latest dimmable LED and CFL technologies, as well as legacy incandescent and halogen bulbs
Supports Z-Wave Beaming
Utilizes Zensys 4.5.4 Z-Wave library
Design blends into any home or apartment and includes three color options
Feature horizontal LED locator and brightness indicator bar
Universally supported by all security systems with Z-Wave energy management technology, including Leviton's popular Omni automation systems
Rated for CFL and LED loads up to 450W
Rated for incandescent and halogen loads up to 1000W
Furthermore, Rated for magnetic low voltage loads up to 1000VA
Additionally, rated for fluorescent ballast loads up to 1000VA
Local and remote dimming from Leviton Vizia RF+ or other Z-Wave controllers
Aditional Features include:
Scene capable, user pre-set 'on level'
User pre-set minimum brightness before turning off
Energy save mode
49 different fade rates
Transient surge suppression built in
Horizontal LED brightness display can be set for single LED or cumulative bar
Five-Year Limited Warranty