Interlogix Ultrasync Modular Hub Description:
The UltraSync Modular Hub Cellular Module from Interlogix. It provides customers with an optional and cost-effective means of uninterrupted cellular communication. System communications between the panel and central monitoring station, as well as interactivity via the UltraSync application, is supported (excluding video viewing). Additionally, the cellular module works as the primary method of communication. Furthermore it works as a backup in installations that use TCP/IP communication.
The module installs directly onto the UltraSync Modular Hub CPU. Installation is simple, should upgrades be necessary in the future. The cellular module features "smart roaming," which enables the device to connect to the cellular carrier. Furthermore, It connects to the highest signal strength and to self-recover from network outages by roaming to another carrier, if available.
While combined with the UltraSync platform, the cellular module implements robust network loss recovery mechanisms to provide the highest service availability.  In addition, A low profile, external antenna is also included.
Lastly it's Effective and reliable, the UltraSync Modular Hub Cellular Module means customers enjoy the peace of mind that comes from knowing they are always connected, secure and in control.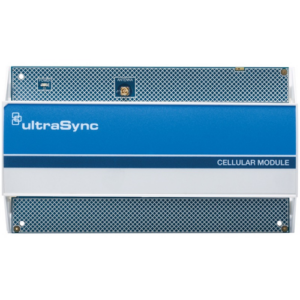 Main Features
Designed exclusively for the UltraSync Modular Hub
Simple installation
Plug-and-play operation
Utilizes existing panel power
Nationwide 3G cellular coverage on GSM networks (U.S. and Canada)