Inovonics Smoke Detector Description:
The Inovonics Smoke Detector features an on-board sounder, a smoke sensor, and an LED indicator and local test capability to allow the user total visibility of its functionality. In addition, it's self-monitoring, alerting the user when sensor maintenance is needed or batteries are low, and automatically supervising the radio link.
Additionally, Inovonics' line of wireless intrusion detection devices, powered by EchoStream wireless technology, designed with today's applications in mind. This product is also compatible with the Safewatch Pro 3000 Vista 20P.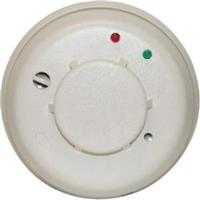 Key Features
Local test and silence alarm functions
Low battery detection
Maintenance warning
Tamper switch for prevention against sensor removal
Also uses an Echo Stream platform