The Honeywell Wireless Ultra Small Door/Window Sensor provides the perfect solution for difficult to reach places and applications where aesthetics and small size are important.
This sensor is great when you want a wireless sensor that is half the size of the standard ones. They will usually have a shorter range than the standard, but if you aren't really far from the wireless receiver, it won't matter. Many people love these for their size. They operate on 345Mhz Frequency like all the Honeywell/Ademco wireless products.
Please make sure you have a Honeywell/Ademco system before buying this product. You can tell by looking at your keypad make/model, looking at your owners manual, or looking on the back of your keyfob.
You'll most likely need a technician to help you install this part unless you know how to get through programming. If you want us to help you with programming over the phone, we can for a cost that is usually less than a tech visit.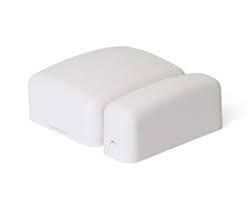 Features
Ideal for ornate doors/windows, casements, etc.
Extremely compact
Features a built-in reed switch and tamper
Includes replaceable lithium coin cell battery
Dimensions: 1-1/2″ H x 1-3/16″ W x 5/8″ D