Description
The ADT Wireless Slimline Door or Window Sensor is a thin wireless door and window sensor. It's compatible with all ADT Quick Connect, Safewatch Pro 3000, Total Security (TS), or Lynx Touch wireless alarm systems and all Honeywell wireless alarm receivers. This sensor is around half the size of the standard wireless sensor, and it can look nicer in some situations. Since it's smaller than the standard sensor, it also won't get as much wireless range and battery life.  If you have casement or double-hung windows, the ADT Wireless Slimline Door or Window Sensor might be ideal so it can fit in the narrower space. You can also get a flat window sensor like this one or an even smaller one here.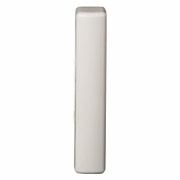 Installation
You can either mount it with the 3M double sided tape it comes with or the screws it comes with. You could also glue or silicone it in place but those don't come with the sensor.
It uses a AAA lithium battery and should provide around 5-10 years of use. You can try to use a AAA alkaline battery, but you'll probably only get around 1-2 years of battery life.
Features
Sleek design is nearly half the size of the standard sensor
Case tamper protection (front and back)
Ideal for double-hung windows or casement windows
Easy replaceable AAA Lithium battery
Dimensions: 3.0″ H x 0.5″ W x 0.8″ D
UL Listed