The Honeywell ADT Indoor Siren is one of the most popular indoor sirens on the market. You can wire it to the control panel (typically a Vista/Safewatch Pro Panel). It can also be so loud that you can't even stand to be in the house while it's going off.  Additionally, it uses up to 500mA of power and has two tones. (steady and warble).
Most wired Honeywell Control Panels have 2 amps for the siren output. This means you could have up to 4 of these on one panel if you wanted to. But most all-in-one panels, like the Quickconnect/Lynx Plus, don't supply enough power to connect this siren without adding an additional power supply. So be careful in choosing your panels.
It can be used to replace an ADT Indoor Siren model RX-7C.
ADT Indoor Siren – Two-tone Siren Features:
Patented case design fits single gang electrical box or wall plate
Snap-open hinged case cover for faster
Installation Louder (106db) dual-tone siren output
Terminal strip eliminates splicing and soldering
Corner or ceiling mounting with no additional brackets or hardware
Channeled case back for convenient wiring access
Vertical or horizontal mounting for great versatility
ADT Indoor Siren Features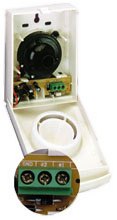 The siren's unique snap-open HINGED CASE DESIGN- an industry first for sounders – allows for installation without disassembly

This siren also sits outside of a single gang box, but other models can be RECESSED in a standard double gang electrical box. (ask for details)
TERMINAL STRIP – no soldering or splicing required
This hardwired siren is compatible with the Vista 20P Panel, the DSC Neo Panels, the IQ Pro Panel, and the Power G Hardwire Module.
If this siren isn't what you need, check out our other sirens.
Please check out our
YouTube
Channel for more information.