HID Fingerprint Smart Card Reader Description:
The HID Fingerprint Smart Card Reader is part of HID Global's extensive line of biometric solutions for physical access control. Designed for two-factor authentication using fingerprint and/or high frequency credentials, while it offers superior performance with mullion mount capabilities and support for securing high value doors. Built for extensibility in demanding applications, this reader supports a broad array of high frequency credential technologies.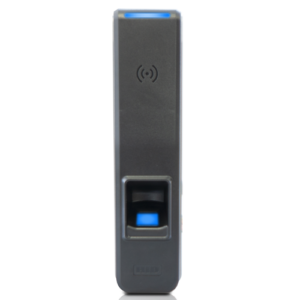 Key Features
Reliable – Uses HID's patented multispectral imaging technology, delivering consistent and best-in-class performance under any environmental condition
Secure – Supports breakthrough technology, providing multi-layered authentication between card and reader while protecting against fake and spoof fingerprints
Powerful – Utilizes a new platform that can match fingerprints in less than a second
Robust – Designed for indoor or outdoor use
Flexible – Delivers multiple interface options for various system architectures
Additional Info:
In addition, this reader pairs with the HID Biometric Manager, a downloadable, easy-to-install web-based software. The Biometric Manager provides device management and user fingerprint enrollment. With an intuitive user interface, HID Biometric Manager is able to configure the settings, change authentication modes, adjust interface protocols, and more. In addition, HID Biometric Manager supports the enrollment of up to 10 fingerprints per user and provides a quick and easy way to write up to two user templates onto your credentials.