The Biometric Fingerprint Reader is a high-tech and sophisticated access control reader that is known for its speed and accuracy. You no longer have to carry around any access cards or key fobs; all you need is your finger! This reader comes with a multi-toned buzzer as well as a multi-color LCD display. This fingerprint reader is also weatherproof, so it is good for any outdoor facility. If you are worried about vandals it is also vandal-proof. The Fingerprint Reader is one of the fastest outdoor or indoor fingerprint readers able to process up to 1:150000 matches in one second! It is also dust and waterproof and highly durable and works best for outdoor facilities. Packed in a rugged stainless steel housing with a sleek metal finish, it can withstand almost any condition and looks nice while doing that.
If this reader isn't what you're looking for, please check out our other access control products.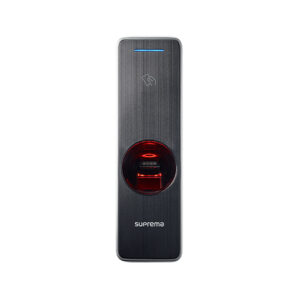 Features of the Biometric Fingerprint Reader:
1.2 GHz Quad-Core CPU
2GB Flash + 256 MB RAM
Multi-color LCD display
Multi-tone buzzer
Specifications:
Dimensions: 50 x 172 x 43.5
Weight: 251 g
Voltage: DC 12V
Current: Max. 600 mAh
Please check out our YouTube Channel for more information.