Description of Helix Wireless Keypad:
The Helipad is a fully wireless, full status security keypad delivering several firsts to the security industry.
The Helipad is the first touch pad to use a supervised Bluetooth Smart connection to provide two-way wireless communication with an alarm panel. In addition, it's also the first touch pad to use e-ink technology (similar to what the Amazon Kindle uses) to provide real-time status updates.
This low power, high contrast display ensures easy reading in high and low light conditions. Furthermore, the keypad itself uses capacities touch delivering a sleek, clean finish for the customer. Helipad has an expected battery life of 1 year on two AAA Alkaline batteries that can be easily replaced by the customer.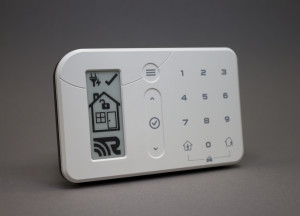 Furthermore, the Helix Wireless Keypad is an additional accessory device you can add to your Helix Security System if desired.  It's not necessary since your smart phone works to arm/disarm the alarm, but it's a nice addition if you want to control the system without a smart phone.
Features:
Bluetooth Smart RF connection
Full status reporting
E-ink display
Innovative capacitive touch interface
Clean and also modern appearance.
1 year of battery life using user replaceable AAA