Description:
The Helix Motion Detector is great to install in any home or office to protect a 90-degree area. The Motion protects indoor areas and transmits an alarm to the panel when it senses motion. In addition, it has a range from up to 44 feet away or when the external contact opens. Furthermore, the detector uses battery power and requires no installation tools. A Pyroflex™ sensor with HighBar™ signal processing allows for industry leading pet immunity as well as catch performance.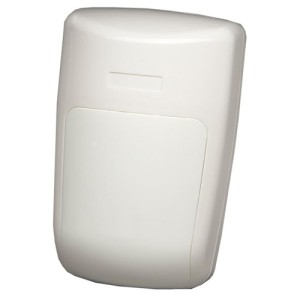 Key Features:
PYROFLEX™ IR sensor and HighBar™ signal processing for superior performance
2 (two) 60 pound Pet Immunity; up to 85 pounds
44 foot range and 90 degree field of view (45 degrees to each side)
Mountable on Flat-wall, 45 degree corner, or swivel/gimbal (sold separately)
Walk test LED
***Unique external contact on separate wireless ID***
6-8 year battery life on 1-CR123 Lithium battery
Cover tamper.
Low Battery indication.
Strong, reliable RF signal.
2.5 x 4.5 x 2 inches.