Description:
The Helix Motion Detector is great to install in any home or office to protect a 90-degree area. The Motion protects indoor areas and transmits an alarm to the panel when it senses motion. In addition, it has a range from up to 44 feet away or when the external contact opens. Furthermore, the detector uses battery power and requires no installation tools. A Pyroflex™ sensor with HighBar™ signal processing allows for industry leading pet immunity as well as catch performance.
The Helix Motion Detector is a device used to detect movement within a defined area of a home or business. It is a component of the Helix security system, which is a professional-grade security system that provides advanced protection for homes and businesses.
The Helix Motion Detector is typically installed on a wall or ceiling and is designed to monitor the surrounding area for any movement. When motion is detected, the Helix Motion Detector sends a signal to the Helix security system, triggering an alarm.
The Helix Motion Detector uses passive infrared (PIR) technology to detect motion, which means that it can detect changes in infrared radiation that occur when an object moves within its field of view. It is a wireless device that communicates with the Helix security system via a wireless connection and is battery-powered.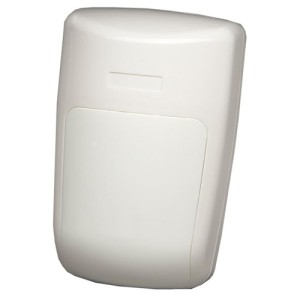 Key Features:
PYROFLEX™ IR sensor and HighBar™ signal processing for superior performance
2 (two) 60 pound Pet Immunity; up to 85 pounds
44 foot range and 90 degree field of view (45 degrees to each side)
Mountable on Flat-wall, 45 degree corner, or swivel/gimbal (sold separately)
Walk test LED
***Unique external contact on separate wireless ID***
6-8 year battery life on 1-CR123 Lithium battery
Cover tamper.
Low Battery indication.
Strong, reliable RF signal.
2.5 x 4.5 x 2 inches.

Please check out our

YouTube

Channel for more information.