Description:
DSC Compatible Wireless Tilt Sensor Enrolling
Each product has a label with a unique 6 digit serial number. You will also need this serial number to add this contact to your security system. Refer to your specific control panel or wireless receiver installation instructions for details on adding a new contact.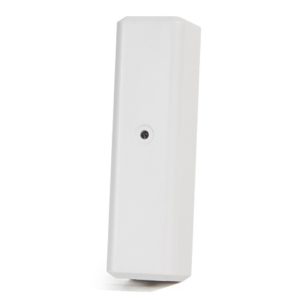 Tilt Sensitivity
The tilt sensor will activate when the device is approximately at a 45 degree angle. By moving the actual ball sensor up or down you can adjust this angle by a few degrees. Note that this device has a delay of approximately 1 second to eliminate false alarms caused by wind and vibration commonly subjected to a large garage door.
DSC Compatible Wireless Tilt Sensor Mounting
Included with this device are mounting screws and double-sided tape. For reliable bonding with the tape ensure the surface is clean and dry. Apply the tape to the sensor and then to the desired location. Apply firm pressure for several seconds. It is not recommended to mount the tape at temperatures below 50°F, although after 24 hours the bond will hold at low temperatures.
Replacing the Battery
When the battery is low a signal will be sent to the control panel.
To replace the battery:
1. Remove the screw securing the top cover, then remove the top cover to reveal the battery.
2. Replace with a battery ensuring the + side of the battery faces as indicated on the device.
3. Re-attached the cover and replace the screw to secure the cover.
Features:
• Slim form factor – 3-1/2″ x 1″ x 7/8″
• Adjustable tilt angle
• Slow loop response (~1s)
• Replaceable lithium battery
• FCC and IC approved
Compatible with DSC
Specifications:
Frequency: 433.92MHz
Operating Temperature: -22° to 120°F (-30°to 49°C)
Battery: One 3Vdc lithium  (1550 mAh)
Operating Humidity: 5-95% RH non condensing
Battery life: 5-8 years
Supervisory signal interval: 60 min (approx.)