Description of Alarm.com Stream Video Recorder 2TB:
Introduction: Alarm.com Stream Video Recorder 2TB designed specifically to work with the Alarm.com hosted video service, it provides a 24×7 gapless, professional surveillance solution. In addition with the Stream Video Recorder, you can also connect up to 4 Alarm.com video cameras for continuous recording. Furthermore, recorded video can also be accessed locally or remotely from a web browser or through our free downloadable Alarm.com mobile apps.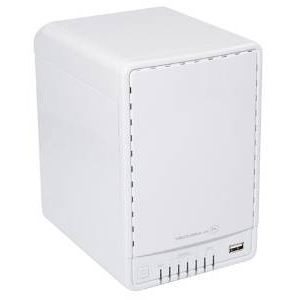 Included Accessories:
• Power Adapter
• Ethernet Cord
• Hard drive handles
• Security wrench
• Cord ties
Features:
Recording Channels: Up to 4-megapixel (1280×800/channels)
Recording: Throughput 16 Mbps (4Mbps /each channel)
Transcoded Playback: MPEG4 –>H.264
Speed Control: 1x, 4x, 8x, 16x, 32x, 64x
Trans-rate Playback: 30fps–>15fps–>10fps–>5fps
RAID: Continuous or RAID 1
Media Processor: 1GHz media processor
SDRAM: DDRIII 2GB
Flash Memory: 128MB
Video Codecs: H.264, MPEG-4, JPEG, Encode, Decode, Transcode, Transrate, Resize
HDD Bay: 2 bays, for 3.5″ up to 2 TB each, SATA II (standard).
FAN: Ball bearing speed control fan. (MTBF at least 50,000 hours)
Dimensions: 121(mm) x 185.9(mm) x 170.87(mm)
Operating Temp.: 32°F ~105°F (0°C ~ +40°C)
Storage Temp.: -4°F ~ 140°F (-20°C ~ 104°F+60°C)
Operating Humidity: 20% ~ 80% RH (non-condensing)
Power Adaptor: DC12V/4.2A type with UL/CE/FCC certified
How does it work?
A recording schedule is saved on the alarm.com customer site which tells the camera to send a constant stream of video for the SVR to record. Additionally, this traffic is also maintained as a result of the customer's router.
Can you view the SVR without an internet connection?
No. Currently, the SVR is only accessible as a result of the Alarm.com website or apps. Additionally, this allows Alarm.com to provide top security for video recordings. Finally, all recorded video can only be accessed as a result of the Alarm.com customer account.