Sale
ADT Pulse Jasco PlugIn Dimming Lamp Module 45602WB
This is the first ADT Pulse Lamp Module and has been replaced with the 45702 version. You can dim lamps with it allowing you to choose what percent power it is given.
Out of stock
Description
ADT Pulse Z-Wave Dimmer Lamp Module 45602WB
Description of the Jasco 45602
This Lamp module has been replaced by the 45702 and is discontinued. This is the Lamp Module that has a dimmer built into it. It can be used for lamps but not with florescent light bulbs. Also cannot be used with other electronics or appliances. For those try the on/off lamp module.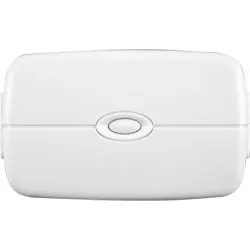 Features of the ADT Pulse Jasco Dimmer Lamp Module
The 45602 easily enrolls to your ADT Pulse Wireless Network
Setup lighting schedules for energy conservation and increased security
Control dimmer switch manually or remotely
space efficient design
Adjustable dimmer for brightness control
Lamp Module includes one Z-wave AC outlet and one standard AC outlet for easy set up and convenience
Requirements to add the 45602WB
You must be able to add these to your ADT Pulse system already. By clicking on System and then Manage Devices. If not you will not be able to add it to your ADT Pulse system. 
Maximum Incandescent Load – 300 Watts
Wireless Mesh Technology
This lamp module increases the strength and signal for other z-wave devices you want to add to your ADT Pulse system. All z-wave devices tested to work at 65 feet through open air. The amount of walls and the type of walls reduce the distance. The more devices you add the stronger the signal and distance it will reach in the home or business.
Additional Items you may want to add (shipping is free when order is over $200)
ADT Pulse Cameras starting at $150
Solar Yard Sign Light $5
Lighting Controls for ADT Pulse Starting at $5
Deadbolts for ADT Pulse starting at $199
Thermostat for ADT Pulse$150
Read our Reviews here if you want to hear what others have to say about us.
If you want to get this in only one day add Next Business Day Shipping.
Please check out our
YouTube
Channel for more information.
Reviews (1)