The ADT GE Wireless Keychain Remote Micro Keyfob is a small, powerful touchpad that functions as an electronic key to arm and disarm systems wirelessly.
This keyfob is a slim, sleek, micro keyfob which functions as a powerful electronic key that you can use to disarm and arm your system without even being near your keypad. It is compatible with any GE Alarm Panel that has a wireless receiver. (Some of those are the Concord, Simon 3, Simon XT, or Simon XTI.)
Additionally, you can all send a panic condition from the keyfob and do such things as turn light on or off. You can also use it as a garage door opener with the appropriate equipment and programming in place.
This keyfob also includes the ability to activate police or auxiliary panic alarms, turn lights on/off or open a garage door-all from up to 500 feet away.
In addition, its highly compact size means it easily fits in purses, pockets or on a keychain. Plus, a specially designed Arm button, featuring small indentations, enables users to send commands blindly without having to look at the keyfob. So you don't have to have full visibility while using it.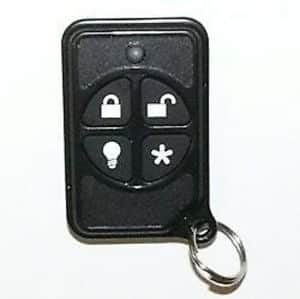 ADT GE Wireless Keychain Remote Micro Keyfob  Standard Features:
Electronic key
Compact size
Ergonomically friendly buttons
Semi-waterproof with IP55 rating
LED confirms wireless transmissions
Open-air range up to 500 feet
Compatible with all GE Interlogix 319.5 MHz control panels and receivers
Specifications:
Battery type: CR2032 coin cell battery
Estimated battery life: 5 years
Transmitter frequency: 319.5 MHz
Dimensions (W × H × D): 1.26 × 1.96 × 0.34 in. (32 × 50 × 9 mm)
Operating temperature: 10 to 120°F (-12 to 49°C)