ADT Command Hybrid Wired Keypad
$70.00
Description
ADT Command Hybrid Wired Keypad Description:
The ADT Command Hybrid Wired Keypad is  basic keypad for the command line of products. In addition, this keypad works on the Hybrid system only. Furthermore, If you would like an upgrade to this keypad, check out the  ADT Command Wireless Alphanumeric Keypad with the ADT Command Smart Security Panel.
This device is convenient and easy to use; no need to spend more time familiarizing or memorizing how it works. It is an interactive home security system specially designed to not only provide real protection for you and your family but also really smart, really simple control of your home – and the devices that make your life easier and better. It is made ideally to help you protect your family and home.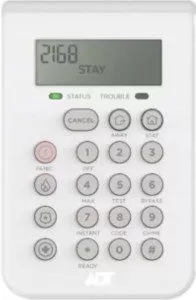 Key Features:
Fixed Glass display (English only)
Dedicated Status as well as trouble LED indicators (no voice annunciation
Powered from control panel 4-wire BUS – 40mA current draw
19-key interface: Identical key layout to the wireless touchpad
Dedicated keys for Alarm "cancel" key, 1-button away or stay arm, panic/emergency initiation
Panic Button for fire, police or medical
Lastly, it features a Wall mount only configuration.
Note:
Only compatible with the ADT Command Security Panel. Not compatible with the Safewatch Pro, ADT Quickconnect, ADT DSC Impassa, or any other ADT security panel.
Reviews (1)