Product Description:
The 8MP Fixed-focal Bullet Network Camera is a new imaging solution that is ideal for people who demand top-notch performance. It is equipped with an 8MP 1/2.8″ CMOS Image Sensor that gives exceptional low luminance and high-definition picture-collecting skills. This camera creates stunning images that are ideal for a variety of applications with an output of up to 8MP (3840 x 2160) at 25/30 fps. It also has the most recent H.265 codec, which permits extremely high compression rates and extremely low bit rates, making it a practical and efficient option for your image requirements. The camera has warm light/IR LED technology that offers a 40-meter warm light range in addition to a 50-meter illumination range. Moreover, intelligent monitoring tools like tripwire, intrusion detection, and SMD 3.0 are present. This supports the classification and precise identification of both individuals and vehicles. The 8MP Fixed-focal Bullet Network Camera provides versatile power options with 12V DC or PoE capability in addition to IP67 weather resistance.
Be safe and secure by selecting the best IP cameras available in our store.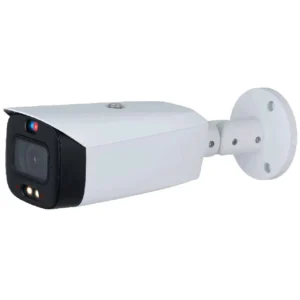 Main Features:
8MP 1/2.8″ CMOS image sensor, low luminance, and high definition image.

Outputs max. 8MP (3840 × 2160) @25/30 fps

H.265 codec, high compression rate, ultra-low bit rate

Built-in warm light and IR LED; the max. IR illumination distance is 50m and warm light distance is 40m

ROI, SMART H.264+/H.265+, AI H.264/H.265, flexible coding, applicable to various bandwidth and storage environments

Rotation mode, WDR, 3D NR, HLC, BLC, digital watermarking, applicable to various monitoring scenes

Intelligent monitoring: Intrusion, tripwire (the two functions support the classification and accurate detection of vehicle and human)

Abnormality detection: Motion detection, privacy masking, scene changing, audio detection, no SD card, SD card full, SD card error, network disconnection, IP conflict, illegal access, and voltage detection

Alarm: 1 in, 1 out; audio: 1 in, 1 out; supports max. 256 G Micro SD card; built-in dual MICs; 1-ch speaker

12V DC/PoE power supply

IP67 protection

Sound and light alarm (red and blue lights)

SMD 3.0
Please check out our YouTube Channel for more information.