5MP Outdoor Panoramic Dome Camera Description:
The 5MP Outdoor Panoramic Dome Camera is a discreet, aesthetic, panoramic camera in a compact design. The 5Mp sensor operating at 15 fps provides full panoramic surveillance with complete area coverage and fine details. The camera also offers full situational awareness and simultaneous E-PTZ views in high resolution with your NVR. Additionally, when mounted centrally on a ceiling, the 360 degree camera lens gives complete wall-to-wall coverage.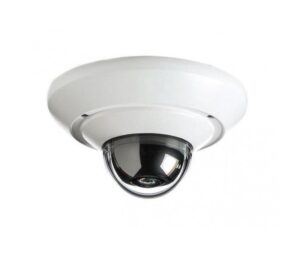 Key Features:
HD Recording: Yes
Image Sensor Type: CMOS
Color Supported: Monochrome
Effective Camera Resolution: 5 Megapixel
Video Formats: H.264, Motion JPEG
Maximum Video Resolution: 1792 x 1792
Connectivity Technology: Cable
Remote Management: Yes
Network (RJ-45): Yes
Placement: Ceiling Mount, Corner Mount, Pendant Mount, Pole Mount, Surface Mount, as well as Wall Mount
Height: 2″
Weight (Approximate): 9.52 oz
Environmentally Friendly: Yes
Additional information:
Dewarping
The lens captures a circular image. Furthermore, our client-side dewarping software transforms this circular image into several different distortion-free rectangular views.
Versions
Two versions are available, an indoor version as well as an IK10, IP66-rated outdoor version (this camera).
System Overview
Advantages of panoramic surveillance
Panoramic surveillance offers full 360° coverage of the designated area. In addition, because our panoramic cameras cover the full area, they provide complete situational awareness as well as are ideally suited to following movement in one continuous sweep.
5MP sensor at 15 fps
With high 5MP sensor resolution, together with a frame rate of 15 fps, makes this camera an ideal solution for many applications in the field of panoramic image capture. Additionally, the high resolution provides a clear overview as well as detailed images.
Client-side dewarping
With client-side dewarping, the camera also streams a single circular non-dewarped image at 15 fps. Furthermore, dewarping is also performed with our dewarping software that is installed on the PC where multiple view modes are available. Additionally, you can choose to use a third-party client-side dewarping software solution.