4000LB Maglock Description:
The hybrid design of the 4000LB Maglock includes two spring-loaded, hardened steel jaws that deliver up to 4000 lbs of ultimate holding power. In a forced-entry assault, the jaws clamp down on the armature plate and hold firm, rotate inward, clamping down and capturing the edges of the armature for an unmatched level of access control.
If this product isn't quite what you are looking for, take a look at our other maglocks.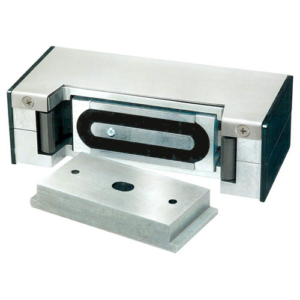 Features
4000 Pound Holding Force Provides an Unmatched Level of Security
Dual Voltage (12/24) and Dual Current (AC/DC) Operation
Mounting Plate Provides Easy and Accurate Installation
Fail-Safe, but can also be Installed with a Battery Backup Power Supply
Bracket and Accessories to Configure any Opening
Indoor Use Only
Specification Data
Holding Force: 4000 lbs. [1814 kg]
Current Draw and Voltage:

AC Current: 130 mA max at 12 VAC, 250 mA max at 24 VAC
DC Current: 100 mA max at 12 VDC, 200 mA max at 24 VDC

Operating Temperature: -40 to +140F [-40 to +60C]
Shipping Weight: 6 lbs
UL Listed