2GIG Encrypted Keyfob Remote Description:
This 2GIG Encrypted Keyfob Remote enables you to turn the 2GIG Alarm System on and off before entering the home or after exiting. In addition, if there is an emergency, you can also turn on the siren and automatically call the central monitoring station. Furthermore, if lamp modules have been installed, you can also use the keyfob to turn all system-controlled lights on or off. As well as have your garage door control with the 2GIG interface. Finally, the 2GIG Encrypted Keyfob Remote is a lithium coin battery-powered, wireless keyfob designed to fit on a keychain, in a pocket, and also in a purse.
In conclusion:
Arms system in STAY or AWAY mode
Also, disarms the system
Auxiliary output as well as emergency functions
Garage door control with GDR1 interface
Lithium coin battery with 5 years life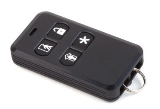 2GIG KEYFOB REMOTE FEATURES:
Wireless Signal Range: 350 ft., open air, with 2GIG Wireless Alarm Control Panel
Code Outputs: Arm; Disarm; Panic; as well as Relay Control
Transmitter Frequency: 345.000 MHz (crystal controlled)
Transmitter Frequency Tolerance: ± 15 kHz
Bandwidth: 24kHz
Modulation Type: Amplitude Shift Keying-On/Off Keying (ASK-OOK)
Unique ID Codes: Over one (1) million different code combinations
Peak Field Strength: Typical 40,000 UV/m at 3m
Dimensions (LxWxH): 1.23 x 2.26 x 0.45 in. (3.12 x 5.74 x 1.14 cm)
Weight in addition to including battery: 0.65 oz. (18.4 g)
Housing Material: ABS plastic
Operating Temperature: 32° to 120°F (0° to 49°C)
Relative Humidity: 5-95% Non-Condensing
Battery (included): One (1) Panasonic CR2015, as well as equivalent Lithium battery
Regulatory Listing(s): ETL, FCC Part 15, Industry Canada
Warranty* Two (2) years
Included Accessories Key ring
Please check out our YouTube Channel for more information.