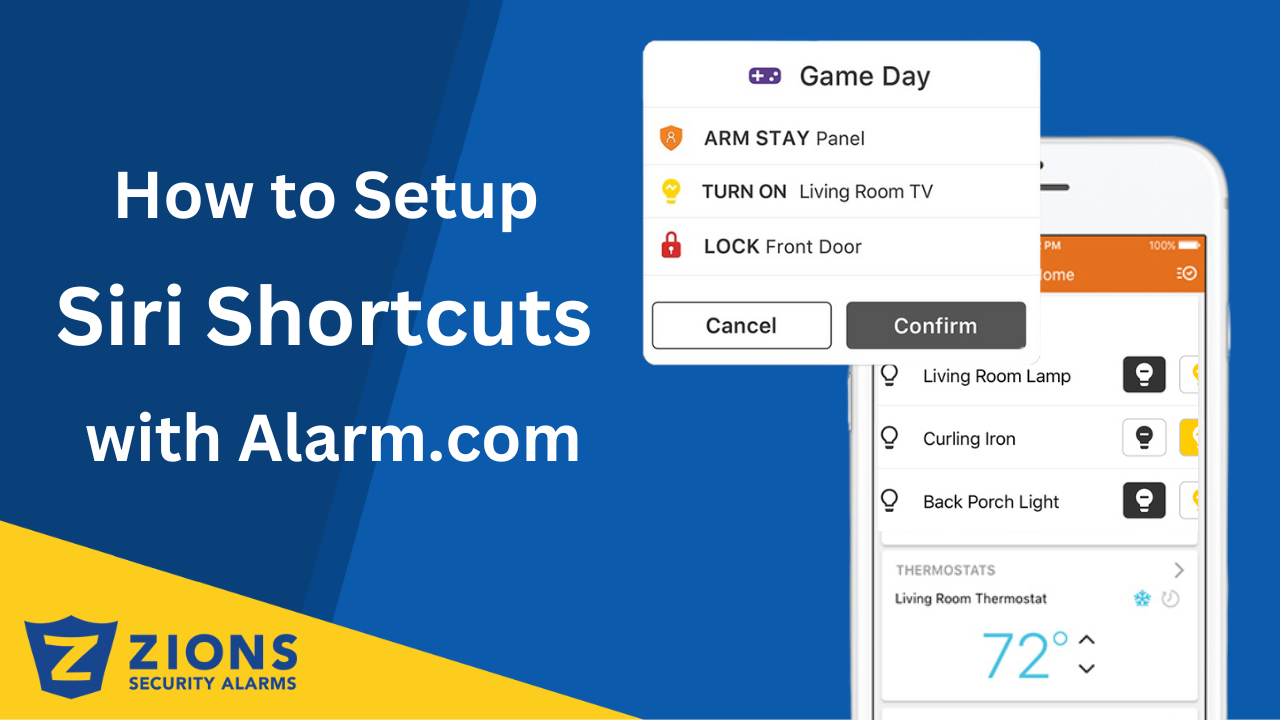 17 Apr

How to Set Up Siri Shortcuts with Alarm.com
How to Set Up Siri Shortcuts with Alarm.com
Do you use Alarm.com and have Apple devices with Siri?
In this article, we will share with you How to set up Siri Shortcuts with Alarm.com devices for your home automation and control system. With the technology that we have right now, there are plenty of choices to upgrade your home security setups and protect your family using simple buttons or voice control activation. And with the help of Alarm.com, you can bring your home automation to the next level! Control and manage your home's security, turn on/off lights, adjust the temperature, have quick access to video when someone rings the doorbell, or even schedule when to close your door garage with just a voice command.
Being home-automated will give you more convenience, comfort, and energy savings by just setting up your devices and systems in the central location and controlling it using a smartphone or AI technology. You can customize your own intuitive voice command and instruct Siri on what you want to do to your home security. Phrases like "Hey Siri, I'm home from work." will automatically recognize and will disarm your system and start to turn on your lighting and thermostat. Why Siri is perfect to use for home automation? Siri is trained on the individual voices before the user started using the device and keeps your information private and secure.
What is the perfect home automation for you?
Before you decide to automate your home, check the compatibility of the system first. Alarm.com voice shortcuts for Siri are available with:
iOS 12 devices (i.e., iPhones, iPads, Carplay, and HomePod speakers)
Note: The iOS device must have an unlock mechanism to perform secure actions (i.e., scenes and disarm).
Apple Watch (Series 3 and higher) with version watchOS 5.0+
Important: Customers must be logged into the app on their phones to use Alarm.com voice shortcuts. For more
information about Apple Watch features, see What features are available through the Apple Watch?
Residential and commercial customers
All countries where Siri is supported
It is also important that the iOS device must have an unlock mechanism set up and the device must be unlocked when performing secured actions using Siri shortcuts.
Follow these steps to create custom Siri voice shortcuts:
Log in to the Customer App
Tap .
Tap App Settings.
Add the custom phrase.
Reminder: Adding custom phrases in voice shortcuts must be spoken correctly to run it properly.
You can check out this video on How to use Siri with your Alarm.com System for more ideas on how convenient having this voice command in your home.
Combine Alarm.com voice shortcuts with commands from other apps.
Users can enable Shortcut apps to create personalized shortcuts which will give provide them with more efficiency in their day-to-day work. This Shortcut app will not only turn off all the lights, lock the doors, and arm the system when you say the custom phrases like"Hey Siri, I'm going to bed" but also set the user's device to do not disturb until morning and set their alarm for work.
To integrate with the Shortcuts app:
Log into the Customer app.
Tap .
Tap App Settings.
Tap Siri Shortcuts.
Tap the Share Activity with Siri toggle to the ON position.
When prompted, tap Share.
For more troubleshooting for Siri, refer to Siri troubleshooting.
If you have any questions please give us a call or fill out our contact form here.
Please check out our YouTube Channel for more information.