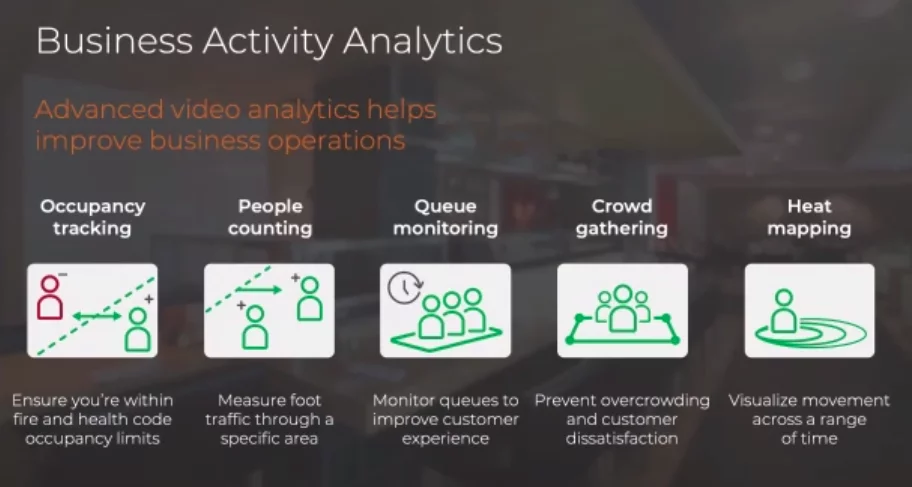 05 Nov

Get Smart Insights to your Business with Alarm.com Business Analytics
Smart Cameras to Enhance and Streamline your Business
As a business owner, you can't be everywhere at once. You have a lot to do every day—and maybe "a lot" is an understatement. But still, it would be nice to know what is actually going on in your business, and we're not just talking hours of security footage or even relevant security alerts. This new feature goes beyond that. Alarm.com Business Activity Analytics offers ways to keep track of and receive reports on a whole range of actionable data. In addition to supplying valuable information, it supports you in keeping your employees and customers safe and comfortable in real-time. From comfort to data, Business Activity Analytics gives your security cameras daily practical functions that extend beyond the basic video surveillance.
      – Foot Traffic –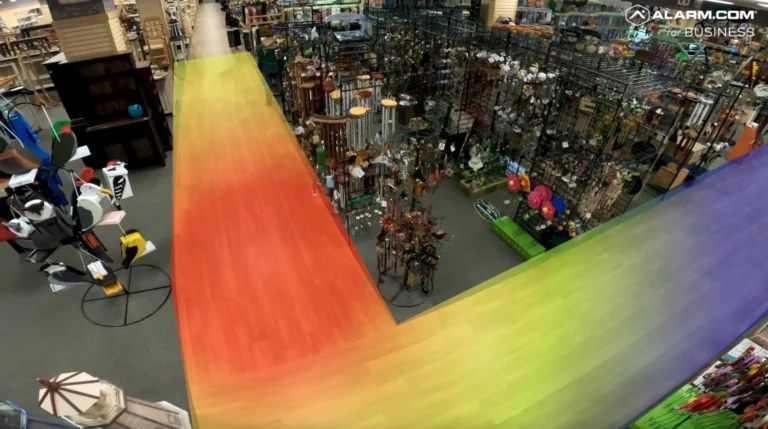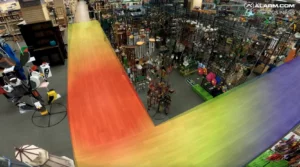 Heat mapping data helps you understand where the foot traffic is heaviest which
can let you know where to move high-valued products, thereby increasing
profits. The system can also tell you information about the flow of traffic
through your business. For example, draw an invisible line anywhere in the store,
and you can learn how many people cross that line in a given direction.
                                      – Queue Monitoring –
This software can give you data about wait times inside your business. When the system
notices people in the queue for an excessive amount of time.  You will be alerted when the
queue wait times are excessive. With this queue monitoring system, you can see where
customers begin to bottleneck. Allowing you to see the flow of traffic throughout your
business. 
      – Crowd Gathering –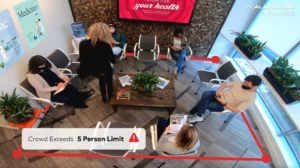 The software can identify when people are gathering in large groups; additionally,
you can set limits on certain gathering areas. So if too many people gather in
that area. The system will alert you when your business's gathering areas are
getting overcrowded. This would be perfect for a business that is in a
Covid-19 sensitive area. 
 – Occupancy Tracking –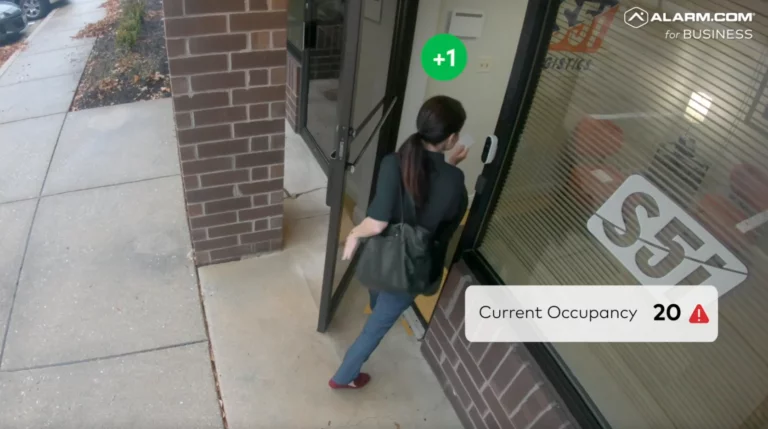 The system can track the occupancy numbers of the business, sending you
alerts about overcapacity. On top of that, the system can generate daily,
weekly, or monthly reports that help you see occupancy numbers on a
broader scale. Average daily occupancy, peak times, and the number of
overcapacity warnings give you a clearer picture of what happened at your
business this week.
Business Activity Analytics in Action
Still, wondering how this might help? Let's do a couple of thought experiments. Imagine it's an unusually busy day at one of your hardware stores. Things normally run pretty smoothly there, but today you get a notification that the wait time has exceeded your limit of five minutes. So, you decide to call up the manager and see what's going on. You can have a conversation; maybe even suggest devoting more personnel to helping people get checked out. Now, you've offered support where it was needed while assisting your customers from a distance.
Or maybe you're curious about your customers' interest in the baby section of your clothing store. You gather preliminary data: looking at heat maps to see where people tend to spend their time and reviewing sales over the past few weeks. Then, you set up an "invisible line" to track the number of people who enter it coming from the front of the store. After a couple weeks, it's clear that the number of people frequenting the baby section greatly outweighs the baby clothes sold. With this information, you decide to to take action. Maybe it's a sale. Maybe it's a general reduction in prices. The choice is yours, but it's a choice you can make because you've got the information you need to make it.
Ready to Start?
As you know, staying on top of your business is a lot of work. Alarm.com's Business Activity Analytics informs and supports that hard work, so you can get the most out of your time.
If you're ready to start collecting practical data for running your business, or you have further questions about how Zions Security Alarms can help your business, reach out to us today.