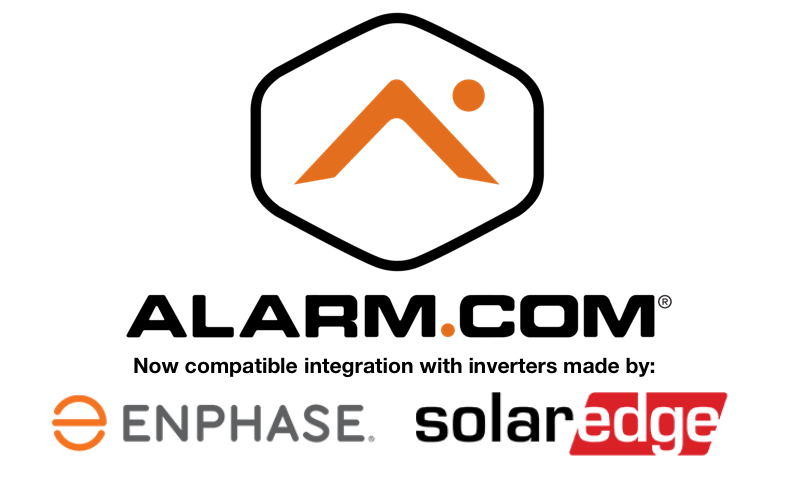 13 Jan

Alarm.com Now has Solar Monitoring

Solar Power has become a popular energy alternative that can be very helpful in saving energy and money. But how can you know how much energy you're using and saving? Well, if you are a customer of Alarm.com and use solar power, you'll be excited to learn that Solar Monitoring is a feature that's now been added.
What is Solar Monitoring?
Solar Monitoring is a feature that Alarm.com has added for customers that have installed SolarEdge or Enphase inverters. By adding on this package, customers can start monitoring their solar power usage.
Why should you care?
If you use solar power, this feature will be of interest to you. With Solar Power Monitoring, you can now add your solar powered inverters into the monitoring that Alarm.com offers. Essentially, you can now track how much solar energy you use and see how much money it is saving you. So you can now monitor how your solar products are doing, and how much energy you're using, saving you time, energy, and money.
With solar power becoming more popular, monitoring how you use that solar energy is a good way to see just how much energy you're using and saving. And this feature from Alarm.com makes monitoring quick and easy.
What can you see with Alarm.com Solar Monitoring?
Customers who use this monitoring will be able to track data for the day, week, last 30 days, and the last 12 months. They can also see estimated savings that result from their use of solar power, which helps them to make smarter decisions about home energy use.
Keep in mind that this monitoring only works with SolarEdge or Enphase inverters. You will also need to apply the Solar Monitoring Service Add-On package to your account.
How we can help
If you have any questions about Alarm.com or this new Solar Monitoring feature, feel free to contact us. We'll help answer questions, and help you get set up.