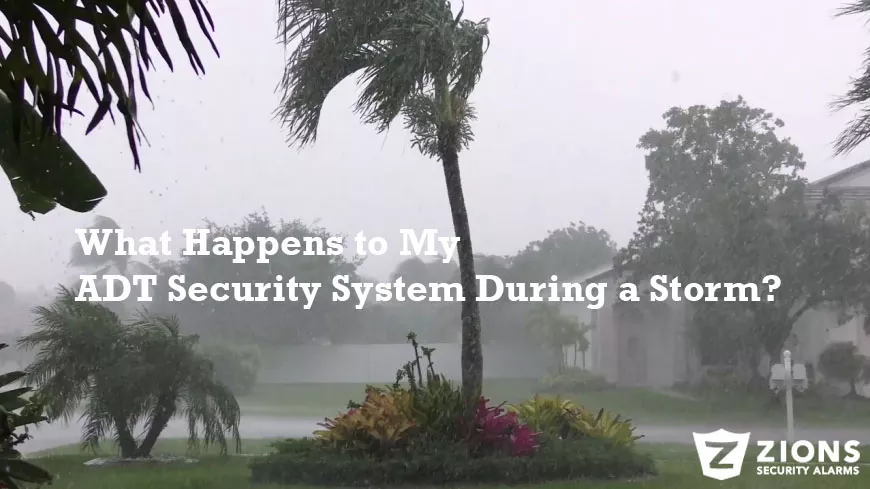 23 Jul

What Happens to My ADT Security System During a Storm?

We often think about how humans can mess with a security system (vandalism, tampering, etc.), but we may not think about how nature itself can affect security. So you may not realize just what can happen to your ADT security system during a storm.
What Happens to My ADT Security System During a Storm?
Storms in particular can cause some problems with your security system. Thankfully, many security systems have ways to adapt to and work through storms, but there are some things you need to know.
So here are a couple of ways a storm can affect your home security.
Weather
It's important to make sure the security devices you have outside are meant to be outside. What I mean as that most outdoor equipment is created to withstand harsher elements than indoor equipment, including storms. In the case of cameras, you can tell it is meant to be installed outside if it has an outdoor rating of IP67. But if your devices aren't weatherproof, or meant to be outdoors, they could malfunction during a storm or even just during mildly bad weather.
Power outages
Power outages are a pretty common result of storms and can range from inconvenient to downright dangerous. Additionally, many criminals will take advantage of power outages to break in.
Now if you have a security system, what happens to it in a power outage? Most systems have an internal back-up battery. In the event of a power outage, the system will default to its back-up battery. This power will last for 4-6 hours, depending on the system. But if you're concerned about being out of power for longer, you can get additional back-up batteries.
Downed lines
Another concern to think about is your system losing connection if telephone lines or internet is down. Whether it's from the wind or lightning, a downed telephone lines could mean a downed connection for your security system. If your system loses its connection, it can't connect to ADT and notify ADT if something happens. That means what while the system may be able to alert you to a break-in, it can't alert the provider and give you that extra security.
What should I do?
The situation isn't as dire as you may think, especially if you have ADT. Most ADT systems come with an internal back-up battery, which gives you some protection in a black out. And even if you lose connection to ADT, they work hard to get you back online. Your system will also continually try to connect to the monitoring station typically within 24 hours. But if your system isn't back online within 24-48 hours, you will want to contact ADT.
How ADT helps
ADT is dedicated to providing its users with security 24/7. In the event of a storm, they do what they can make sure your system is back online and working as soon as possible, usually within 24 hours. If you are having troubles with your ADT security system during a storm, you can call ADT to troubleshoot any problems.
How we can help
As an ADT dealer, Zions Security Alarms can help you with your ADT equipment. If you're looking to buy an ADT security system, contact us!