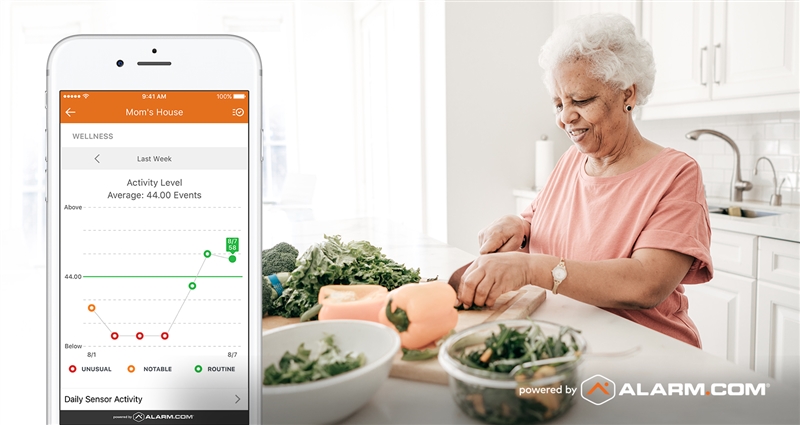 26 Mar

11 Insights to Support Safe Independent Senior Living

Over 34 million Americans provide unpaid care for an adult aged 50 or over. I am sure they are happy to do so for the most part. But, these are typically busy parents that are the main income providers for their own families as well as providing some form of care for their aged parents or other relatives.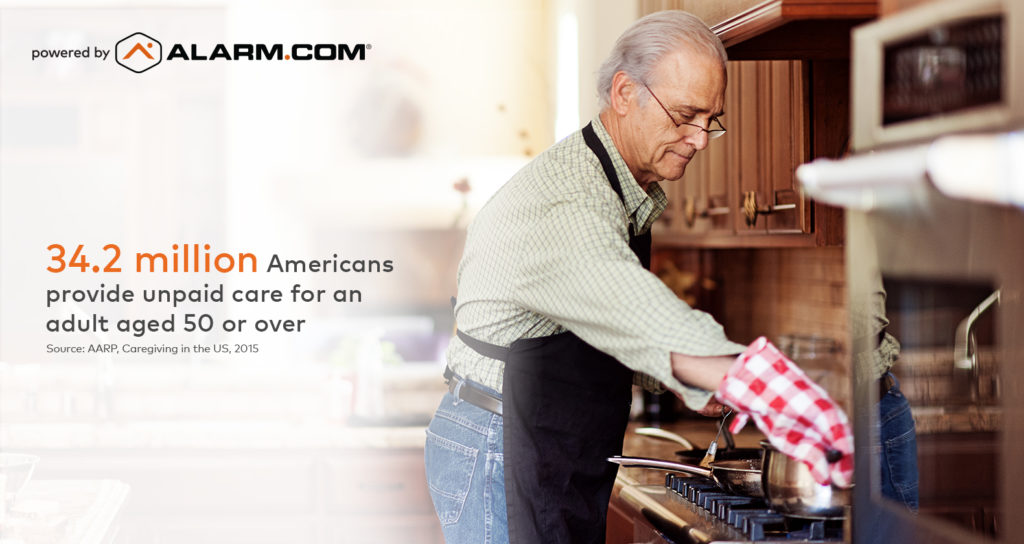 In addition, 87% of seniors are wanting to stay in their own home and have the freedom and independence they have always had. It can get challenging when their health and safety becomes more of a concern. If an aging loved one is looking to stay in their home longer but you are concerned about their safety, these 10 insights can help you look after your aging loved one and prevent any accidents. Alarm.com can use a variety of connected sensors and devices to discreetly monitor their daily habits and alert you when there are any abnormalities or sudden changes.
Here are the 11 insights to help support safe Independent senior living for your loved ones while making the caregivers life more manageable.
Live video Check-Ins – Check-in on them visually to verify how they are doing. By using one of the indoor camera options you can see them and talk to them with two-way audio right from your phone. You can get notifications if there is activity or inactivity. With the wellcam they can even push a button if they want to talk to you.
Video at the Front Door – Your loved one can answer the door using the video doorbell and you can check on who came to the door that will ensure their safe independent senior living.
Personal Emergency – You can be notified immediately if the person you care for pushes a panic button. Using a wireless panic button as a pendant, wristwatch, or belt clip they can always be one push away from help and they can even detect a fall.
Fall Prevention – We can have a light turn on automatically when a loved one gets out of bed in the middle of the night. This can ensure that they can see well and do not trip or run into anything in the dark.
Potential Nighttime Fall or Event – With a bed sensor you can be notified if your loved one has been out of bed for a long period of time.
Potential Illness – If your loved one is still in bed after the usual range of time you can get an alert letting you know. You can know their total sleep time, go to bedtime, and wake up time. Alarm.com will alert you if anything is out of the norm so you do not have to check these daily if you do not want to.
Healthy Eating Habits / Medication Adherence – Eating habits are some of the most important things to monitor especially for the elderly so you can use Open/Close sensors to get a notification when a medicine cabinet or refrigerator door has been opened. You can use this to help them maintain a healthy diet and make sure they take their medicine. It can be accomplished with a door sensor.
Potential Nighttime Wandering – You can keep track if the exterior door is opened at an unusual time and try to prevent a loved one from walking off unconsciously.
Sedentary Lifestyle – We all have a loved one that loves to sits in his/her chair, but if they are spending more time than usual in it you can be notified. We can accomplish this with a chair sensor.
Bathroom Frequency – If there are frequent trips to the restroom it could be good feedback for medical professionals that they might need to change or check on something. This can be accomplished with a combination of door sensors, motion detectors, and a bed sensor.
Home Temperature in the Normal Range – some of our older loved ones cant see as well and may set their thermostat to the wrong temperature. You can use a smart thermostat to monitor the temperature in their house and set it to the correct temperature remotely from your smartphone.
These 11 insights can help you keep track of your loved one while you are busy with work and maybe even younger children or grandchildren. Alarm.com has a discreet way to set it and forget it so they can just alert you if anything is worth some additional attention in regards to your loved one. It learns patterns and then alerts you to anything that could indicate an upcoming health issue – before it turns into an emergency. Not only will these connected devices help give you peace of mind, but they can also increase the connection between you and your loved one.
Please contact us if you have any additional questions we can help with.