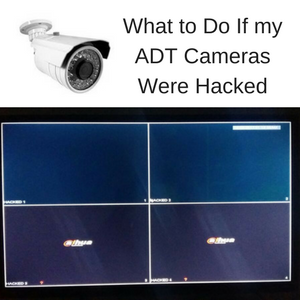 03 Oct

What to Do If ADT Cameras Were Hacked
If you're wondering what to do if your ADT cameras are hacked, you've come to the right spot!
With news stories of credit reporting agencies being breached and other sensitive information being compromised, being more vigilant about protecting yourself and your security is becoming more and more important.
Let's talk about what to do if your security cameras have been hacked, and how you can tell they've been hacked. Also, we may just have a bonus section about this you can do to help prevent your cameras from being hacked.
Let's get to it.
Here's What to Do If Your ADT Cameras Have Been Hacked
If you your security cameras have been hacked they will say the word "hacked" as the name for each camera as shown in the image above. This vulnerability was only discovered for ADT camera customers that have a certain type of DVR. ADT Pulse Cameras are not capable of being hacked like these DVRs can.
If it is hacked here's what you need to do:
Update your firmware. That simple. 
Doing this can help fix your problem and help correct your security's vulnerability. To make sure you have the most up-to-date firmware, we recommend contacting ADT.
Have Your ADT Cameras Been Hacked?
Knowing that your security cameras have been compromised is, of course, crucial.
One way you will know is they will actually be labeled as "Hacked."
Other ways to know if your cameras have been hacked include:
Strange noises coming from your camera

Your camera is moving and rotating abnormally

Your LED light is on but you didn't turn it on
Bonus: Help Prevent Hacking
There are a couple things you can do to help keep your cameras from being hacked.
First things first, make sure that you secure your wireless network.

Use your security cameras administrative tools to enable encryption. (

Click here

to learn more about encryption and top encrypted technology)
Be Vigilant
Security cameras can be a huge asset to your home security system, allowing you to record activity and even check in for live feed with technology like ADT Pulse from the palm of your hand.
Be vigilant in regularly checking up on your security system!